Campus Tour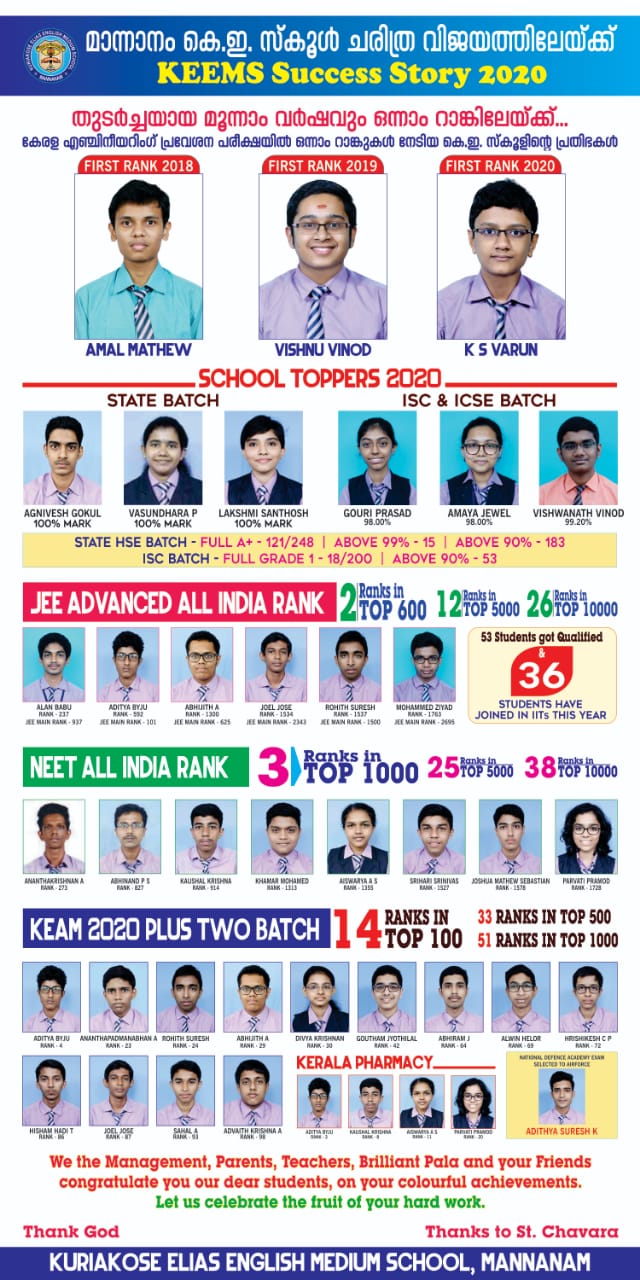 KEEMS SUCCESS STORY 2020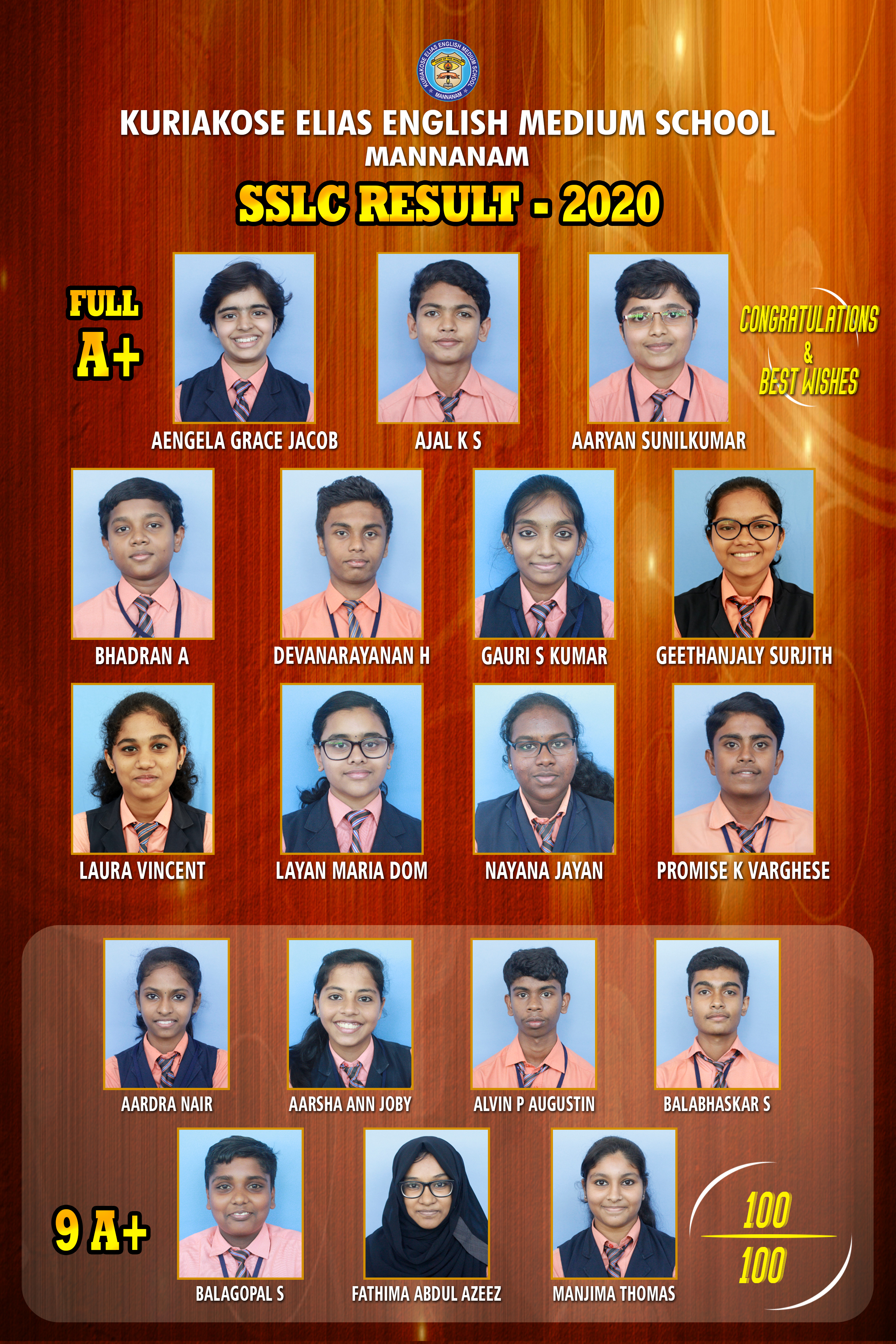 SSLC RESULT 2020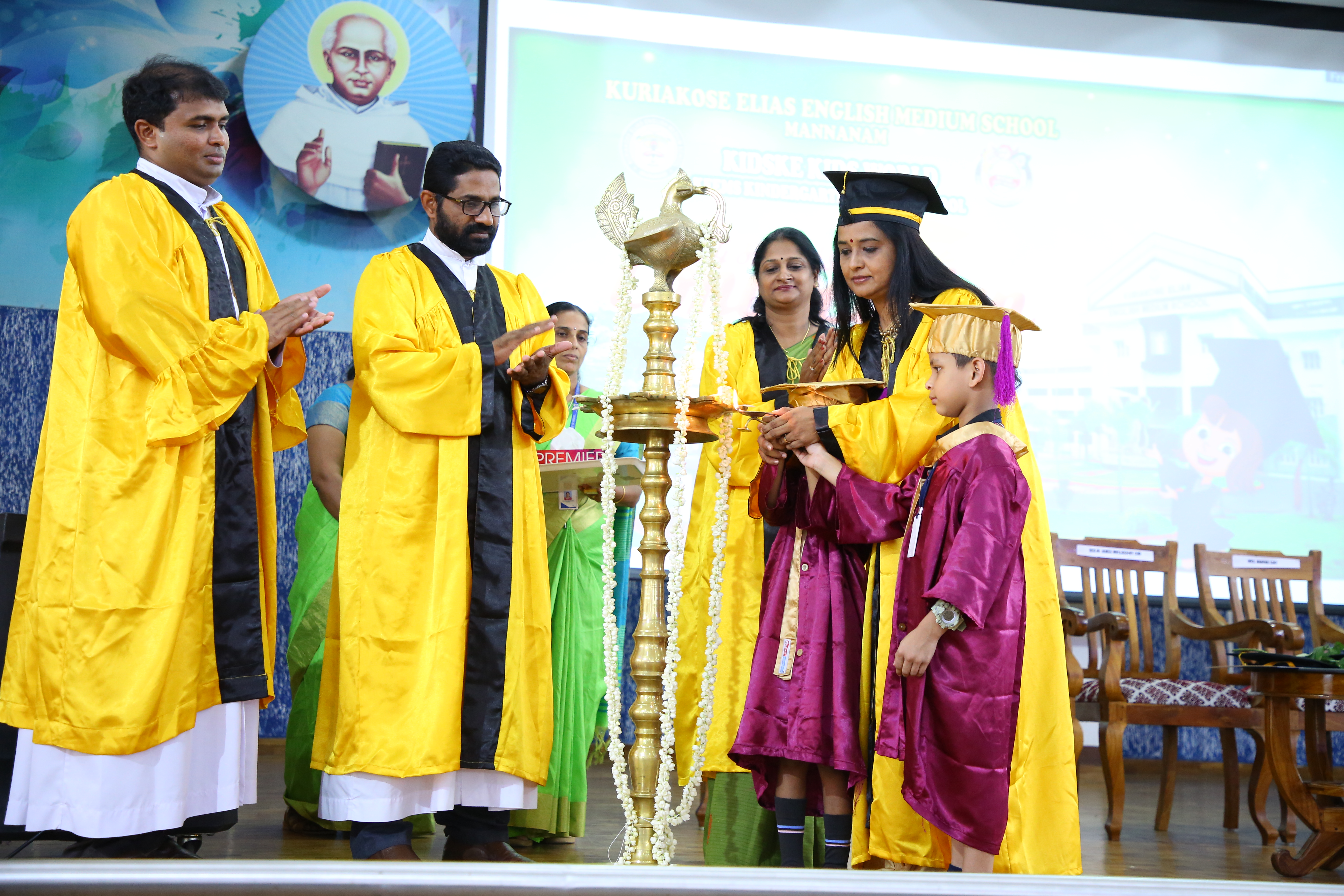 THE LITTLE GRADUATES
The UKG Students of KE School were awarded KG graduation certificate on Friday 28th February 2020. The chief guest of the day, Smt. Mereena Siby (Former Head, Kristhu Jyothi Kinder Garten) distributed mementos to the kids. The public meeting and the entertainment programmes conducted by 12.30pm in the school auditorium.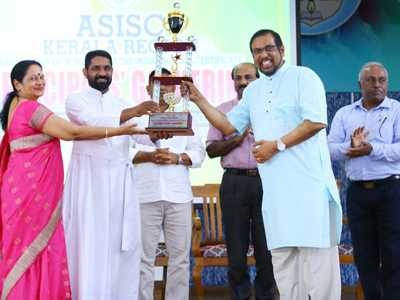 ASISC KERALA REGION PRINCIPALS' MEETING
ASISC Kerala region Principals' meeting was held on 29th January at 10.00 am in the school auditorium. About 120 principals from various reputed ICSE/ISC schools attended the meeting. Trophies were presented to those schools who excelled in ASISC Scholarship Examination 2019.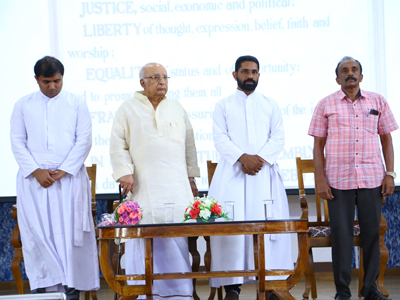 REPUBLIC DAY CELEBRATION
Republic Day Special assembly was held on 27th January in the morning. The Students UP,HS & HSS section attended the meeting inaugurated by Hon. Justice K. T Thomas,( Retd . Justice, Supreme Court of India). Preamble of the constitution was also read out by the students.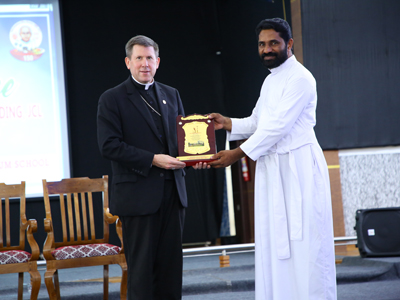 THE DIVINE VISIT
Most Reverend J. Mark Spalding , JCL Bishop of Naskville visited KE School on 21st January 2020. His gracious presence during the Holy mass and the school assembly turned out to be much inspiring in a serene atmosphere in the campus.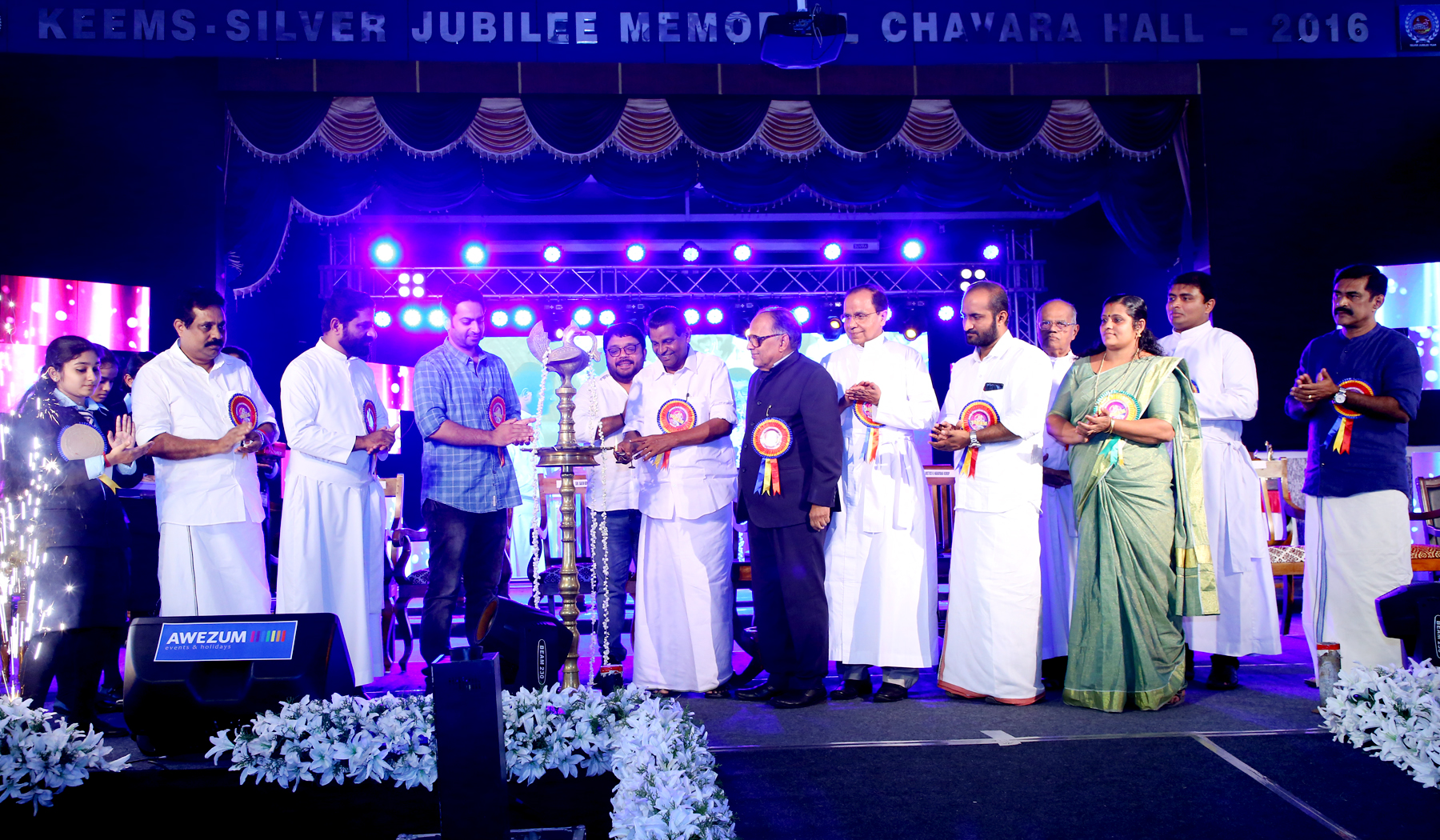 NIRACHARTH 2020
The 29th Annual day, Niracharth was celebrated at the KE School auditorium at 1.30pm. The mega event was inaugurated by Sri. Thiruvanchoor Radhakrishnan, Honorable MLA. Dr. Justice K Narayana Kurup, former Judge, High Court of Kerala was the chief guest who inaugurated the Pearl Jubilee celebration. Words of blessing for the special day was offered by Rev. Fr. Scaria Ethirett CMI. The former Principal of the school Rev. Fr. Philip Pazhayakari was honoured in the annual function. The spectacular cultural event was an added attraction. Various entertainment programmes of the KG, LP and Higher Secondary won the appraisal of multitudes. The whole premises sparkled in the well designed lighting decorations. The retreat bell rang with the announcement of closure of the day's event by 10 pm.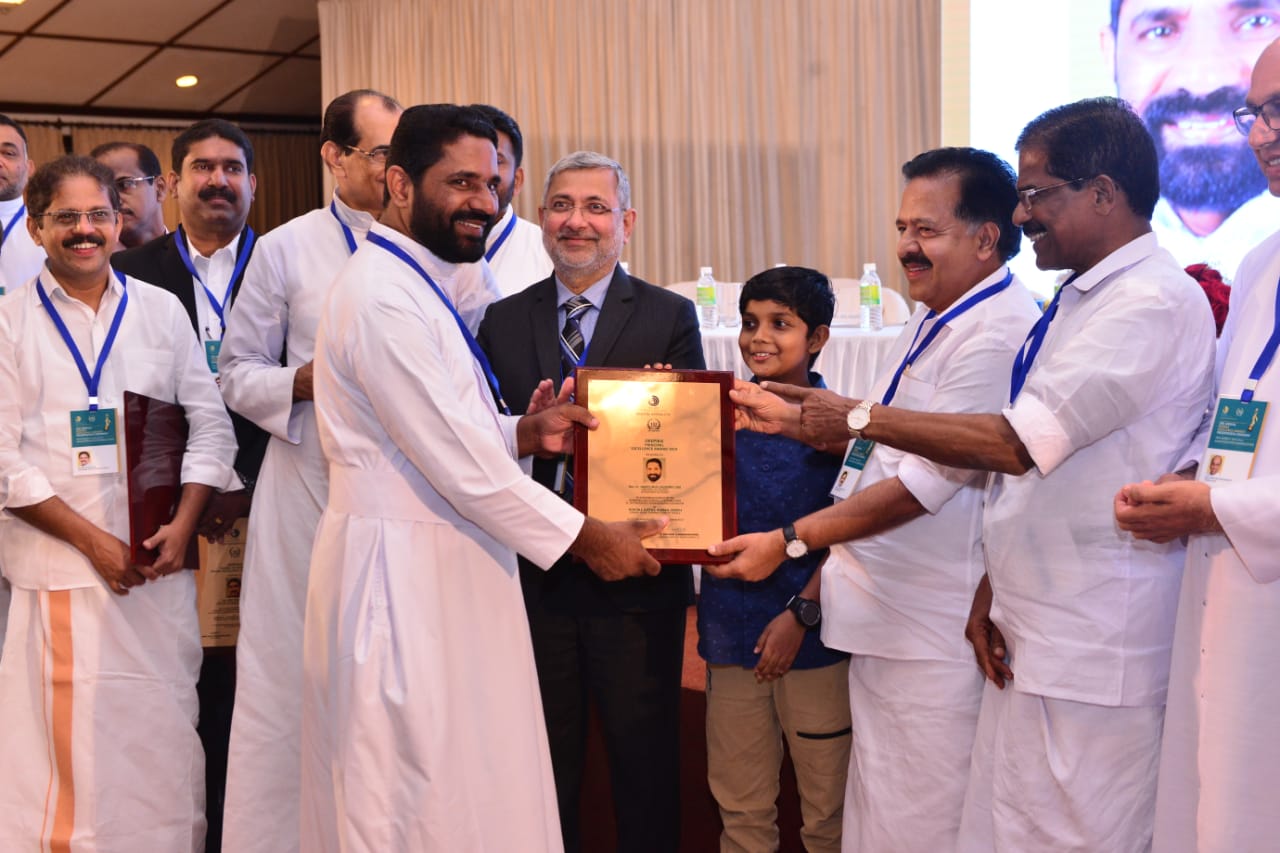 KEEMS SCALES PEAKS OF GLORY AGAIN
KE school and Principal Rev. Dr.James Mullassery CMI was honoured by ASIANET presenting Education Excellence Award award on 27th December at Kottayam. The award was presented by Sri.E P Jayarajan, Minister for Industries and Sports. K E School Principal Rev.Dr.James Mullassery CMI was titled Best Principal 2019 by Rashtra deepika awarding his Memento on 27th December at Backwater Ripples Kumarakom . The award was presented by Hon'ble Justice. Kurian Joseph , former judge of the Supreme Court.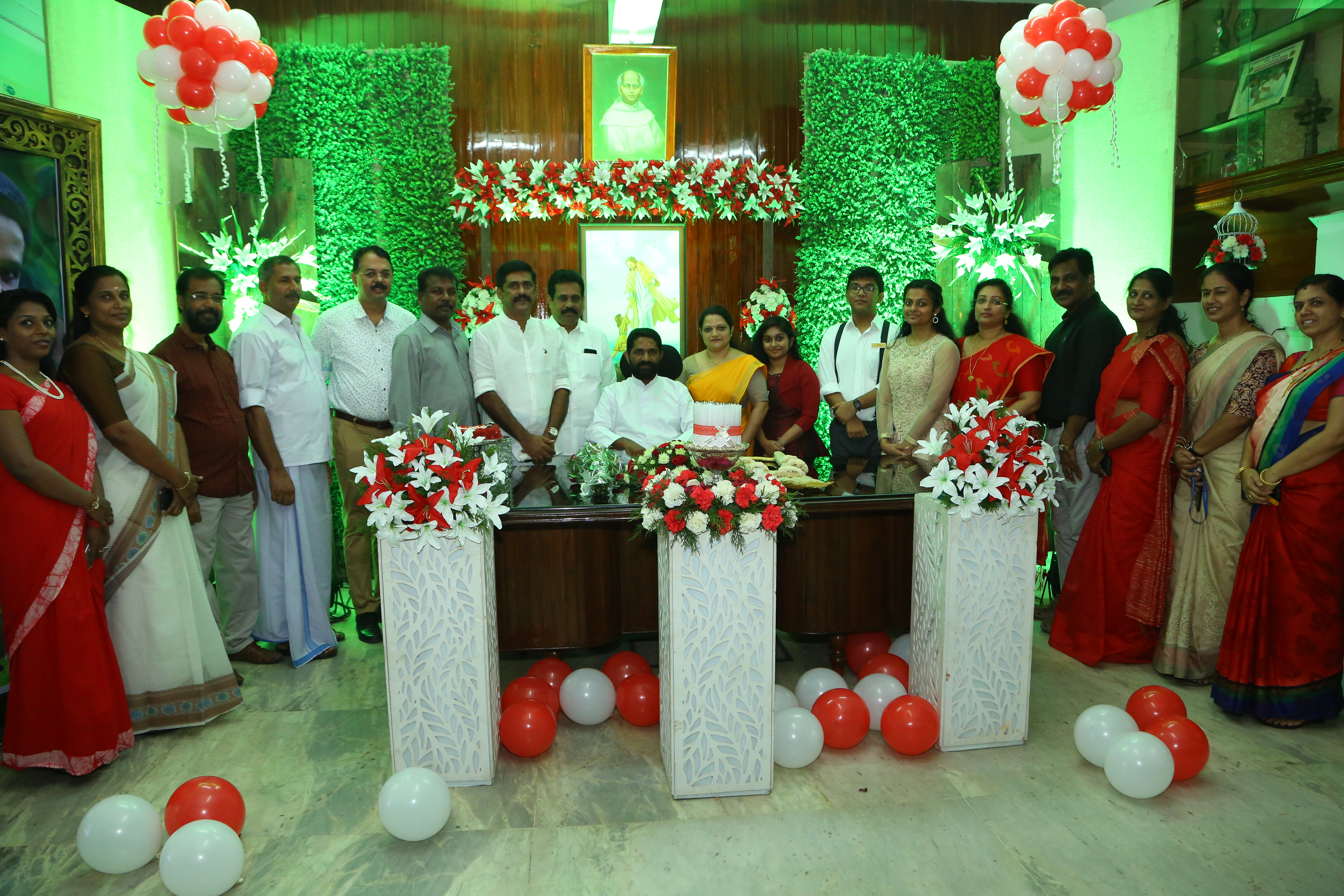 PRINCIPAL'S DAY & CHRISTMAS CELEBRATION
Principal's 50th birthday was celebrated at KE on 5th December along with the Christmas day celebration. Rev. Dr. Kurian Chalangady, Principal, Christ Nagar Senior Secondary School, Thiruvananthapuram adorned the special guests chair. The festive mood and vibrating performances rendered a colourful day of celebration to the members of KE family. School Magazine KE familia 2019 was also released during the occasion.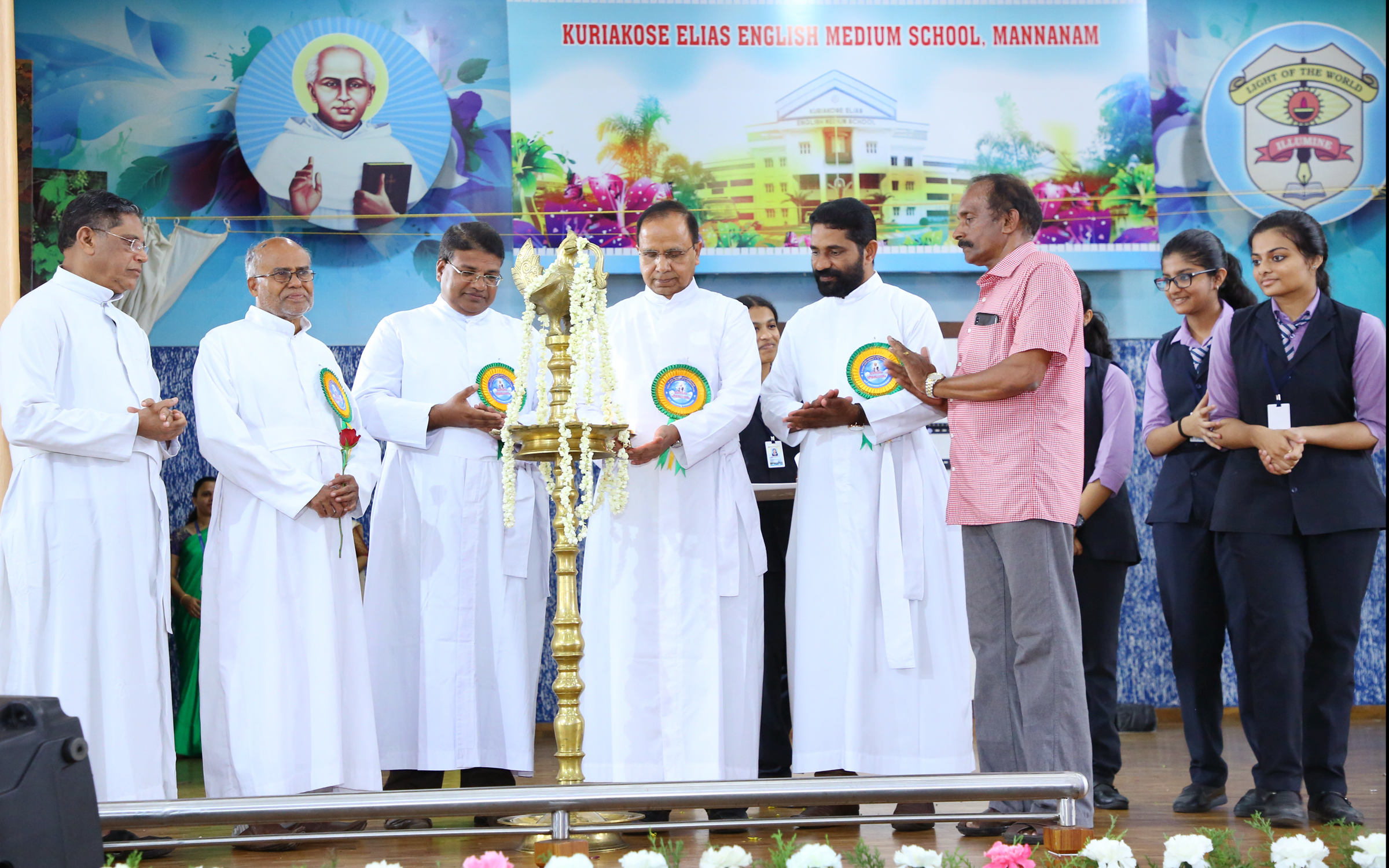 ST CHAVARA CANONIZATION RALLY
St. Chavara Canonization 5th anniversary rally was conducted at Mannanam on 25th November 2019. The pilgrimage was flagged off from KE school, Mannanam by Rev. Fr. Sebastian Chamathara CMI, Provincial, St. Joseph's Province, Thiruvananthapuram. Nearly 6000 students from 21 different schools under the St Joseph's Corporate participated in the pilgrimage. Holy mass was celebrated at the church and lunch was served to the students.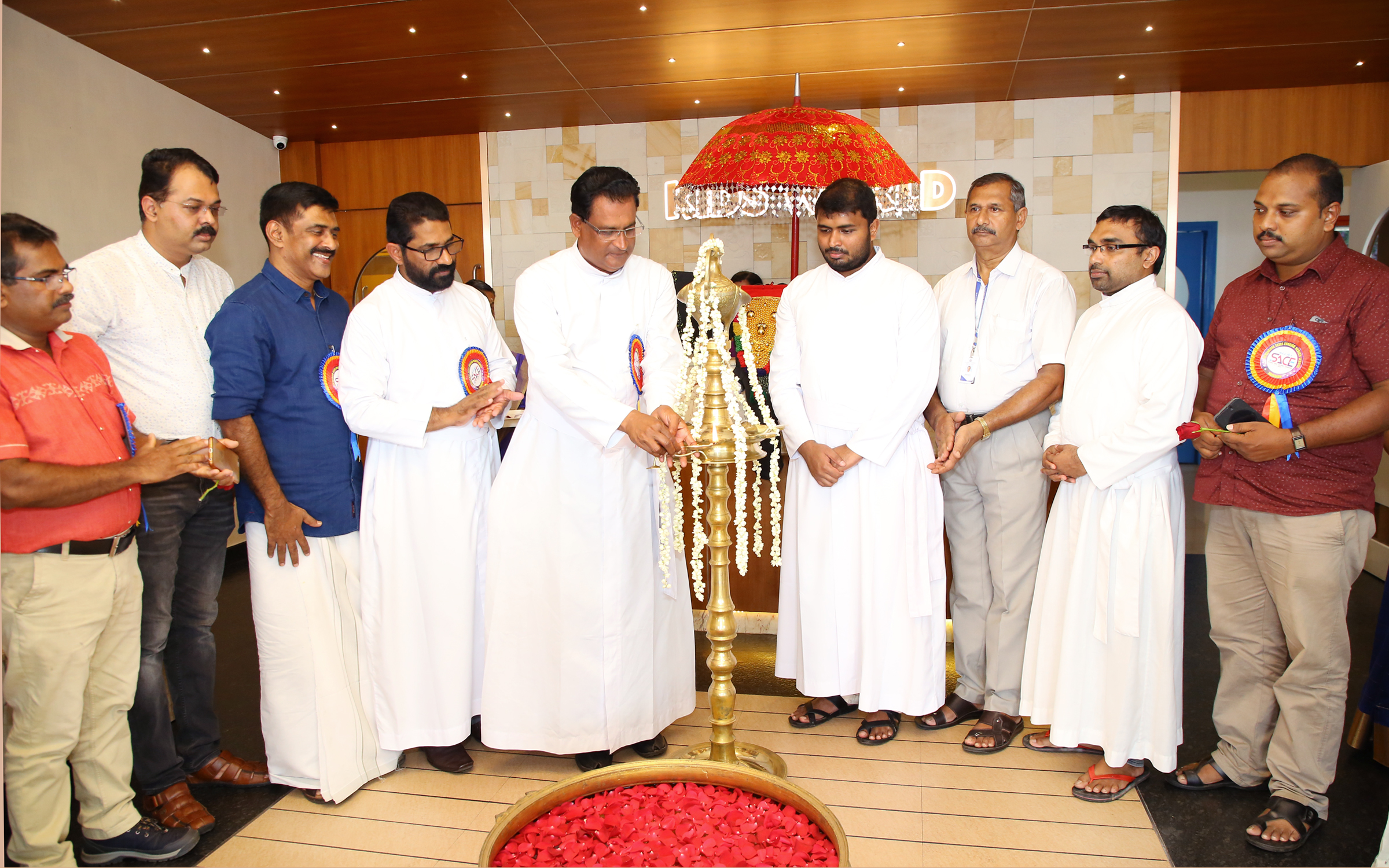 KEEMS SACE – 2019
KEEMS SACE -2019 ,Science, Arts and Cultural Exhibition was conducted at KE from 17th to 19th November 2019. Rev. Fr. Mathew Arekalam former Principal inaugurated the exhibition. There were 45 stalls both put up by the students and by other reputed agencies and institution.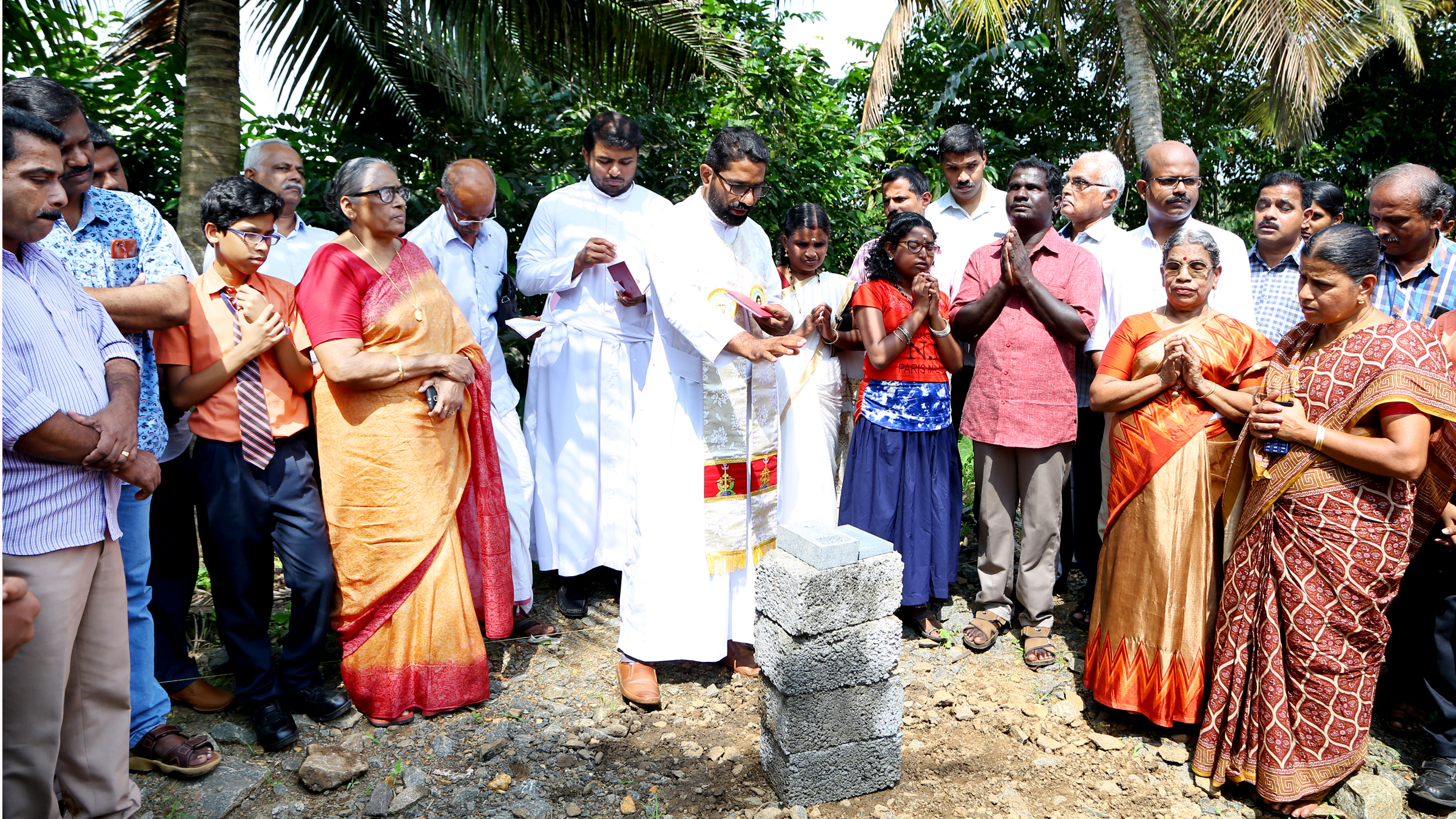 FOUNDATION STONE LAYING CEREMONY
KE School laid the foundation stone in view of constructing a home for the blind family of Mr. Shaji on 3/11/19 at Parippu, Kottayam. As a part of the 'One year one home' project, this year the school has decided to serve the blind family.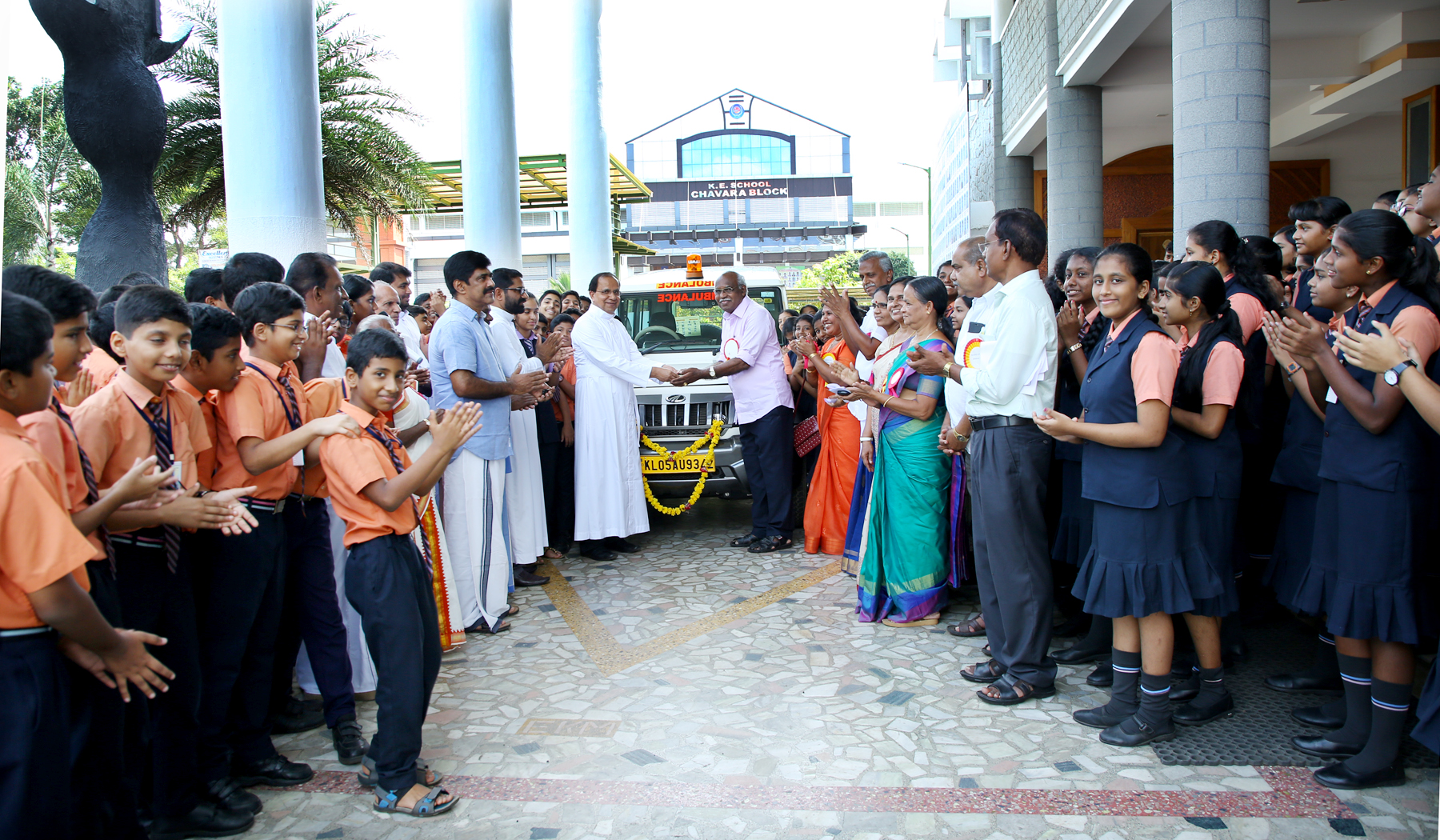 AMBULANCE DONATION
KE School donated an ambulance to Punarjani charitable trust, Ammencherry. Rev Fr. Sebastian Chamathara blessed the ambulance bolero and handed over the key to Punarjani on 7th November 2019.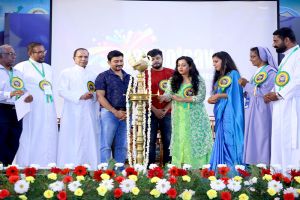 RANGOTSAV 2019
ASISC Kerala region cultural fest for ICSE/ISC Schools, Rangotsav 2019 was hosted by KE School on 4th and 5th October. Sri Thomas Chazhikadan MP, hoisted the flag on 4th October symbolically opening the fest. Sri. Maqbool Salman , Ms. Poojitha Menon and R J Alphonsa were the celebrity guests on the inaugural ceremony and Sri. Prem Prakash and Smt. Elamkulam Sheela Rajan were the special guests on the valedictory function . Nearly 1500 participants from 72 reputed ICSE/ISC schools showcased their talents on the stage. The students from Harisree Vidyanidhi, Thrissur bagged the overall winner's trophy in both ICSE and ISC category.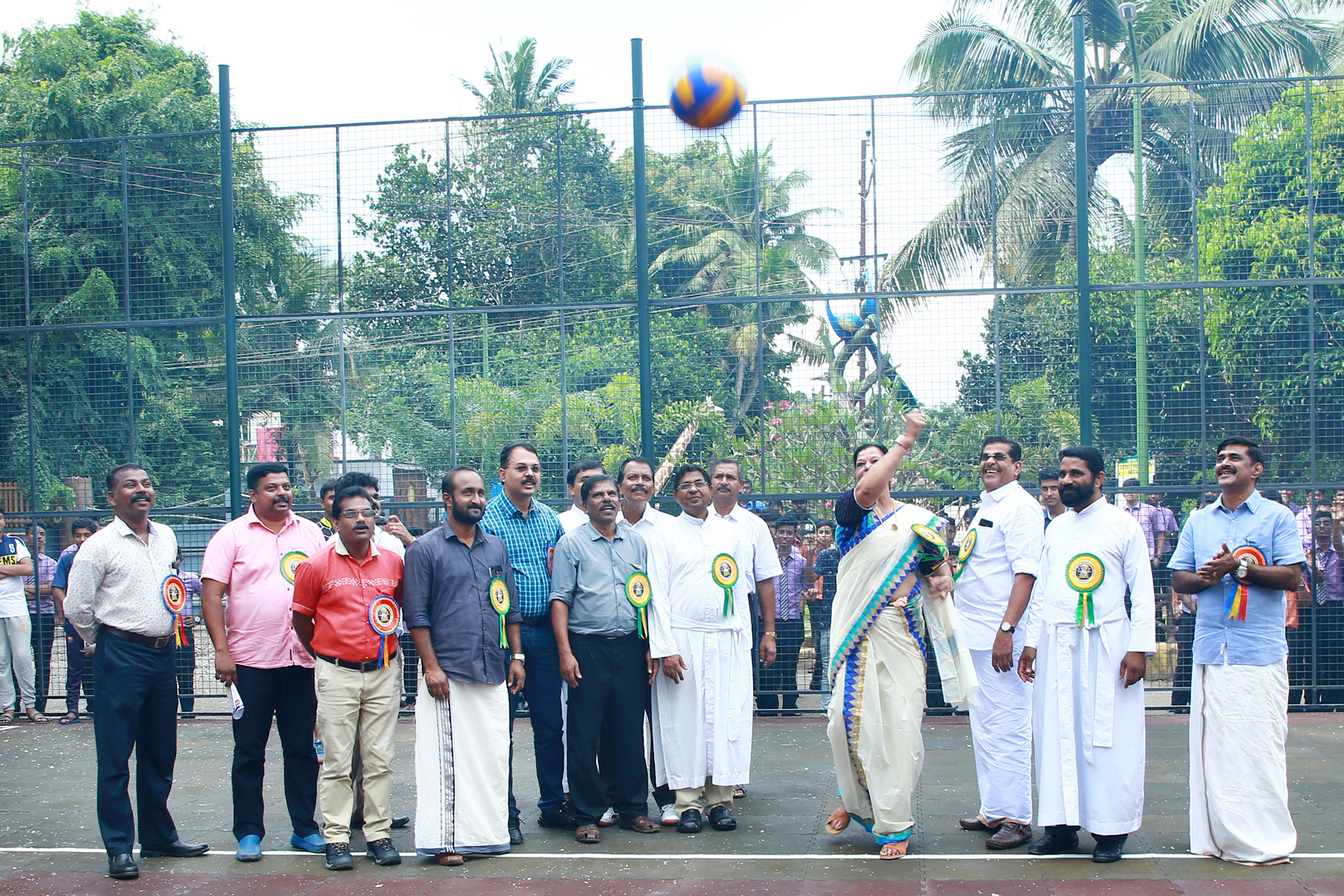 KE TROPHY TOURNAMENTS 2019
KE Trophy tournaments for 21st Volley ball and17th Basket ball was inaugurated at KE grounds on 20th September 2019. Chief guest of the day Smt. K. C. Elamma , Rtd SP, Arjuna award winner 1978 and former captain Indian Volleyball team inaugurated the tournament. The colourful opening ceremony raised the curtains up for 4 days of beats & defeats.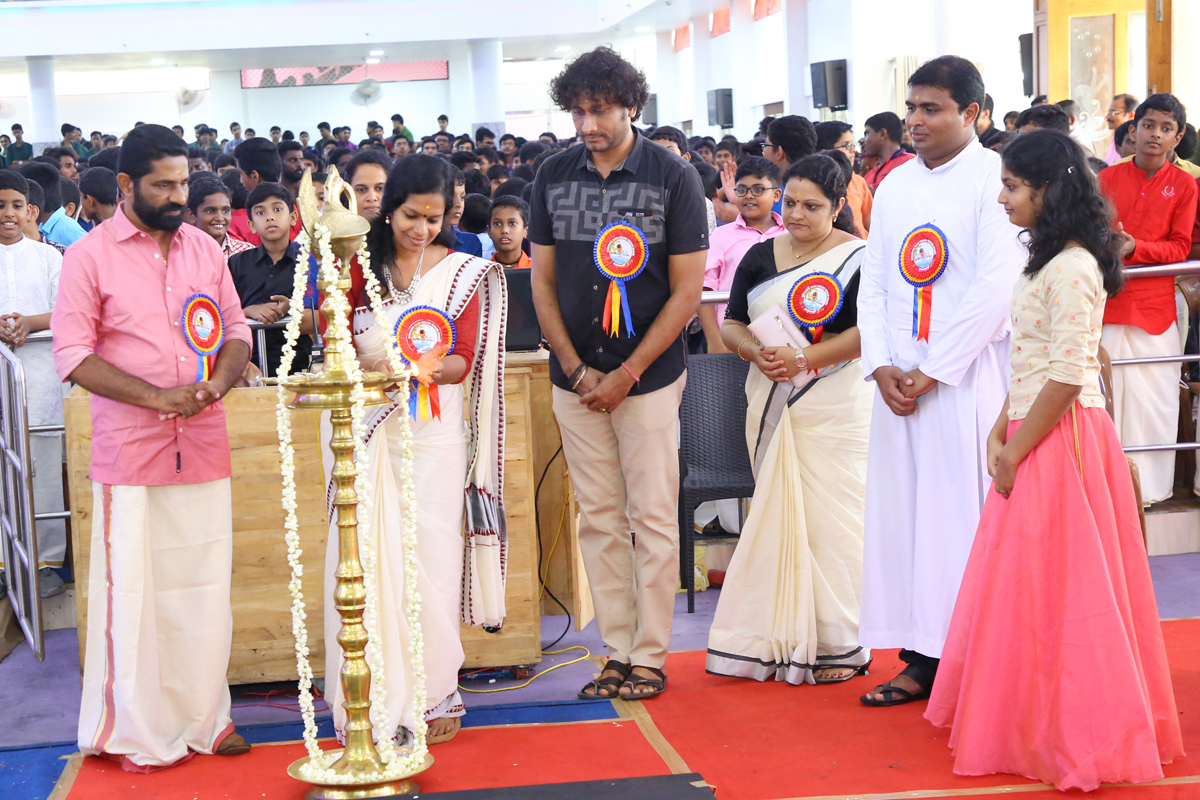 ONAM CELEBRATION 2019
Onam celebration was held at KE on 5th September for the students of KG to Std IV and on 6th for the UP, HS, HSS students. Sri. Girish Narayanam, Music Director and Smt. Lekshmi Girish Kurup , Blog writer were the chief guest of the day.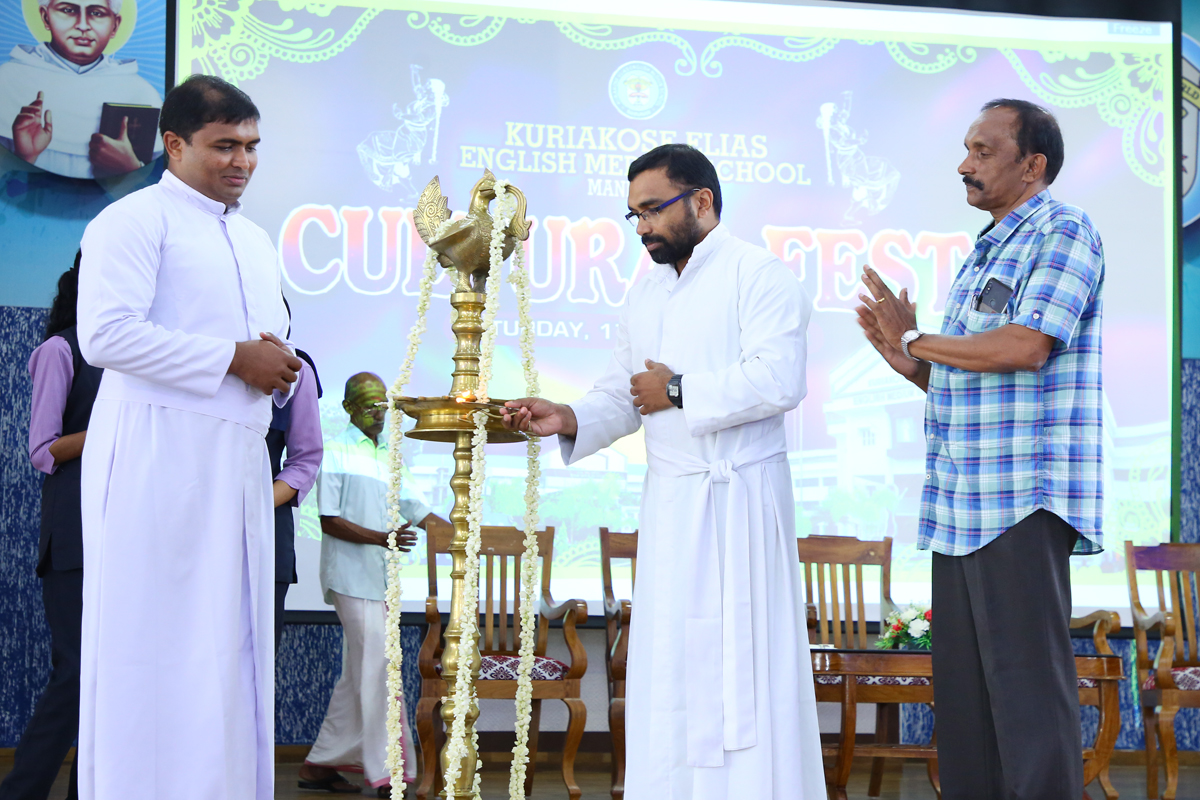 CULTURAL FEST
Cultural fest 2019 was held on Saturday 17th August, at different venues in the campus. The cut throat competitions and scintillating performances hooked all eyes and ears.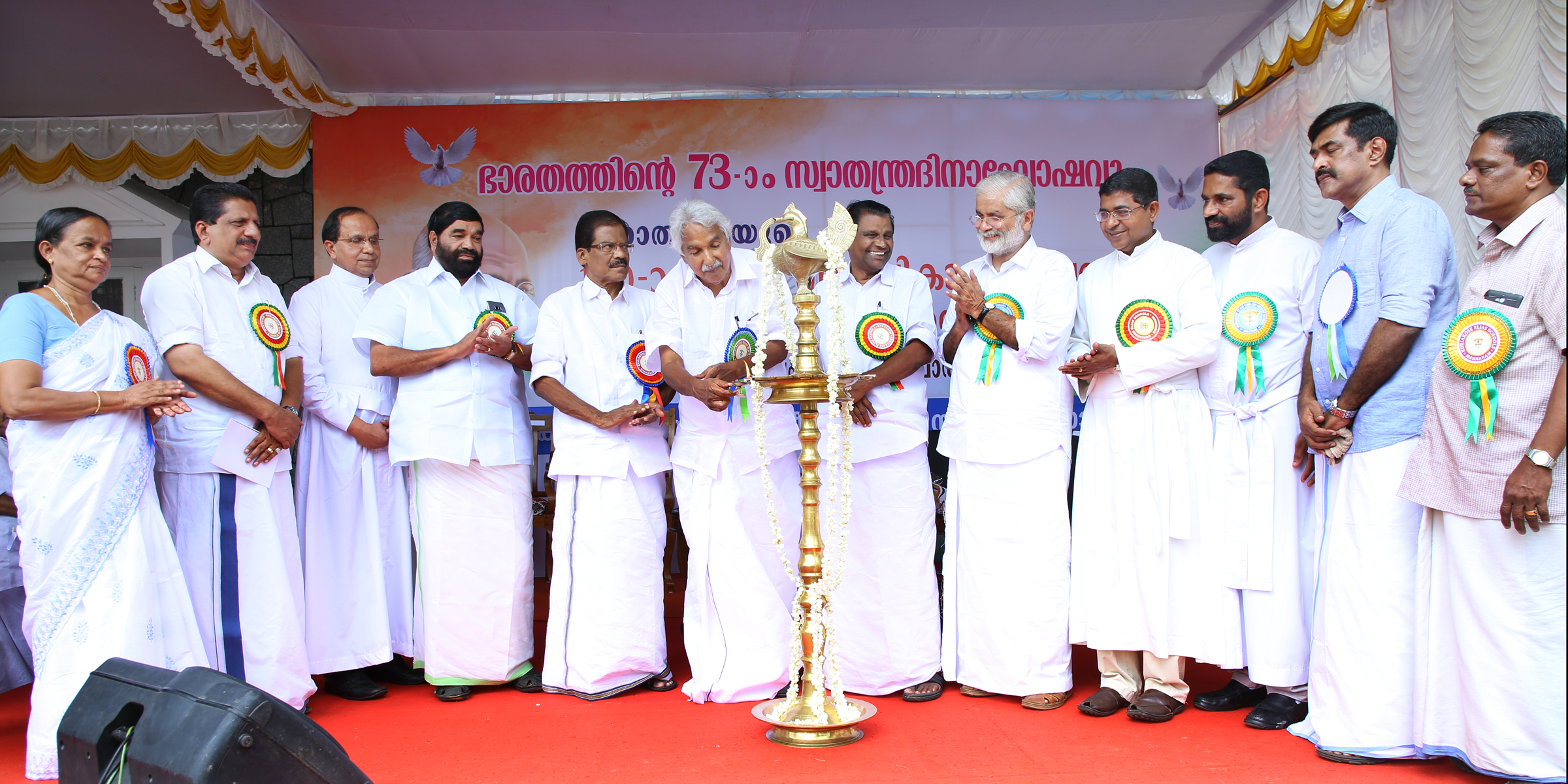 INDEPENDENCE DAY CELEBRATION
73rd independence day celebration was held at KE school on 15th August Thursday. 150th Birth Anniversary memorial Statue of Mahatma Gandhi was also unveiled on the occasion by Sri. Oommen Chandy, former chief minister of Kerala, in the presence of many distinguished invitees.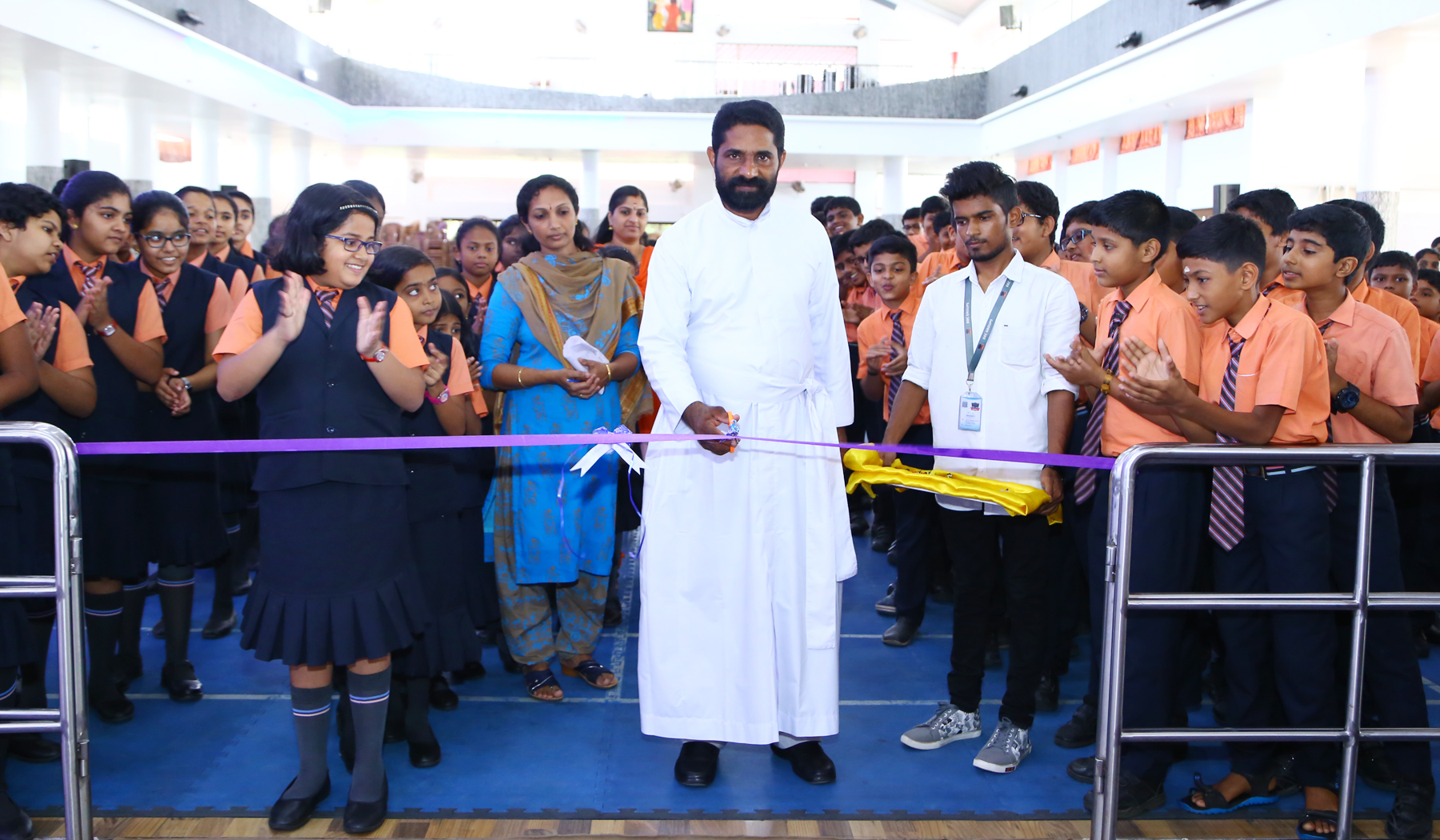 BOOK EXHIBITION SALE
Delhi central library organized 3 day Book exhibition cum sale on 5th,6th,7th August 2019 at KE Auditorium. The venue was thronged by readers to own their unputdownable books.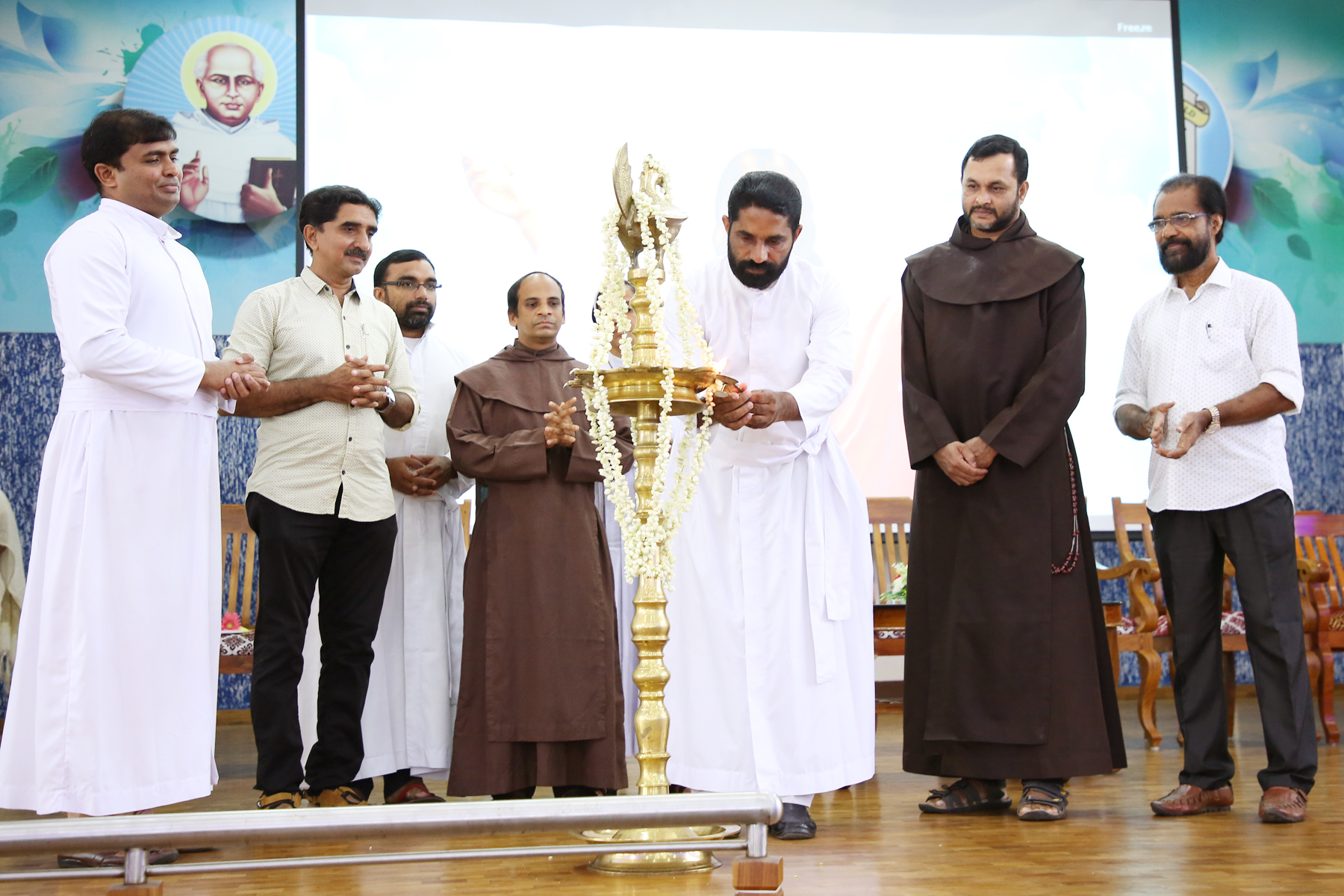 ANNUAL RETREAT
Annual Retreat for the students of UP, HS, HSS section was conducted by Angels Army, Cochin on 26th, 27th & 28th July in the School Auditorium. The three days of serene atmosphere rejuvenated the young minds to confess their guilt and spare a few hours in salvation.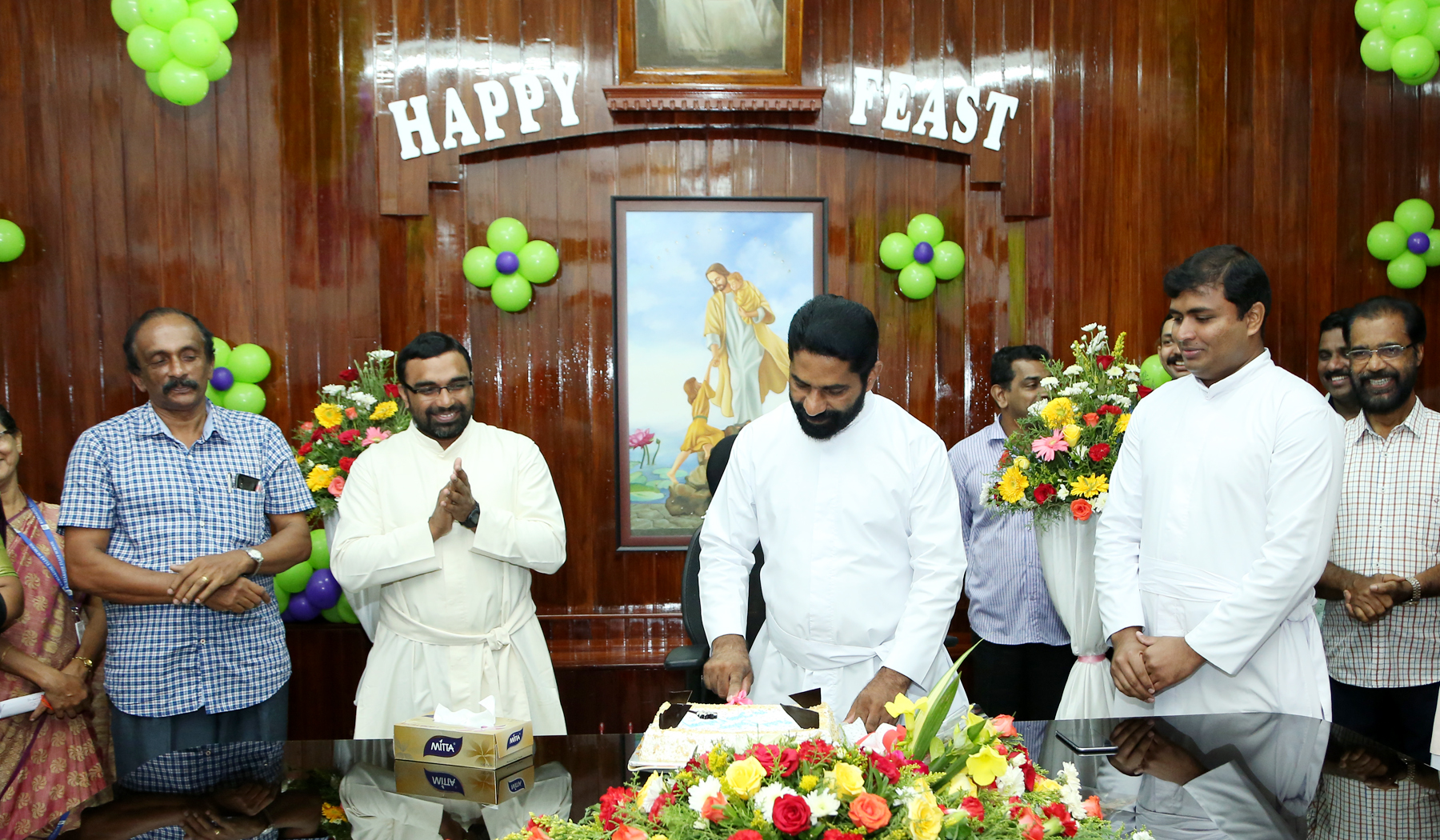 FESTAL GREETINGS
Name day Greeting to you dear Principal…. KE School celebrated the name day of our Principal on Thursday 25th July. The feast day celebration of our Zebathi's son was celebrated with prayerful wishes to go a long way as he continues his 9th innings at KE.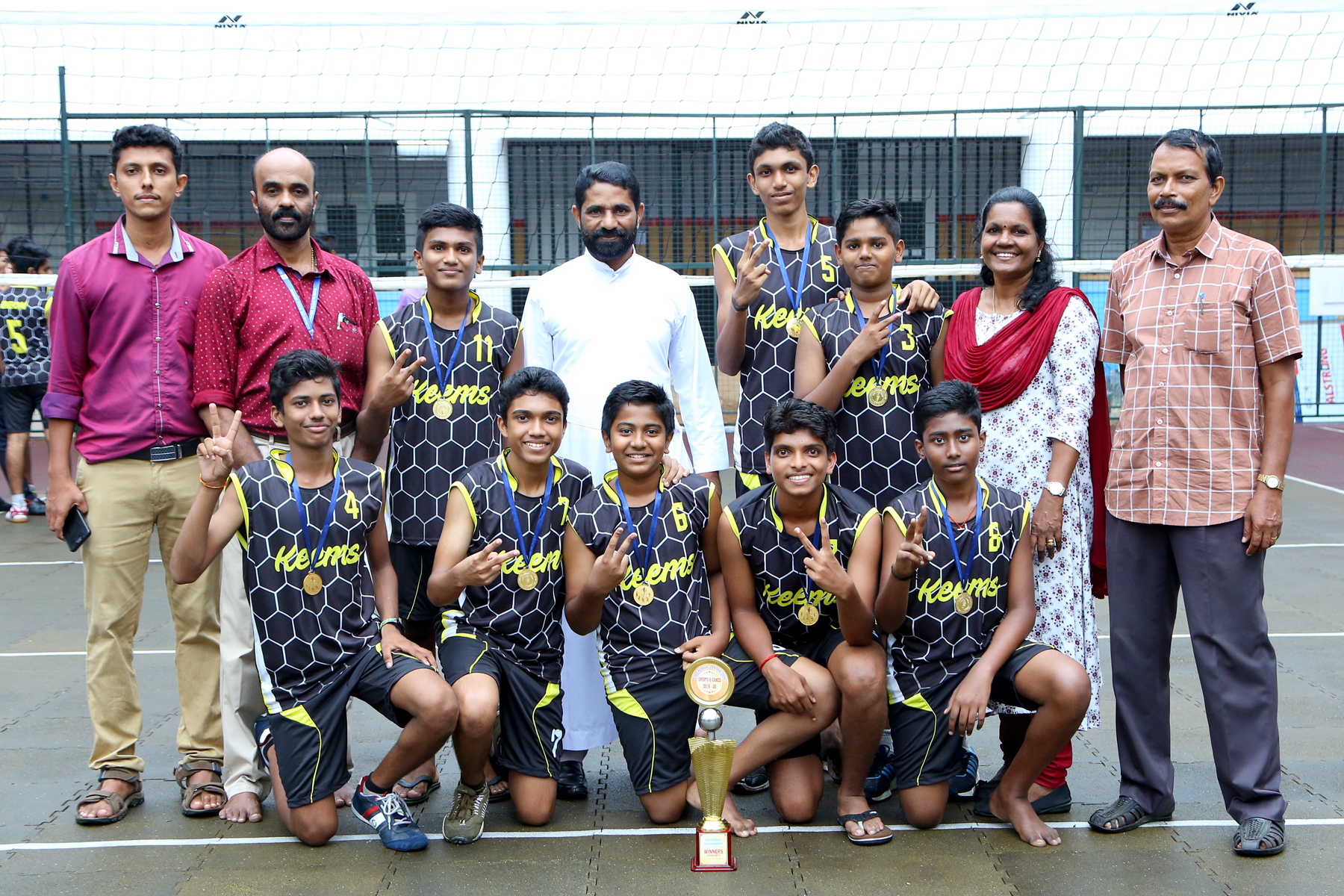 CISCE KERALA CENTRAL ZONE VOLLEY BALL TOURNAMENT 2019
KE the Champs!!! KEEMS teams won the cup defeating the opponents in all the categories in the CISCE Kerala Central Zone volleyball tournament hosted by KE on 19th July – Friday at Mannanam. In the Junior girls category, KE team held the title defeating Alphonsa Residential School Bharananganam . In the Boys Category , KE Senior team became the champions defeating Bishop Moore Mavelikkara and KE Junior team, gained momentum over Mathew's Mar Athanesious Residential School, Chengannur. Congratulations to KEEMS Volley ball teams !!!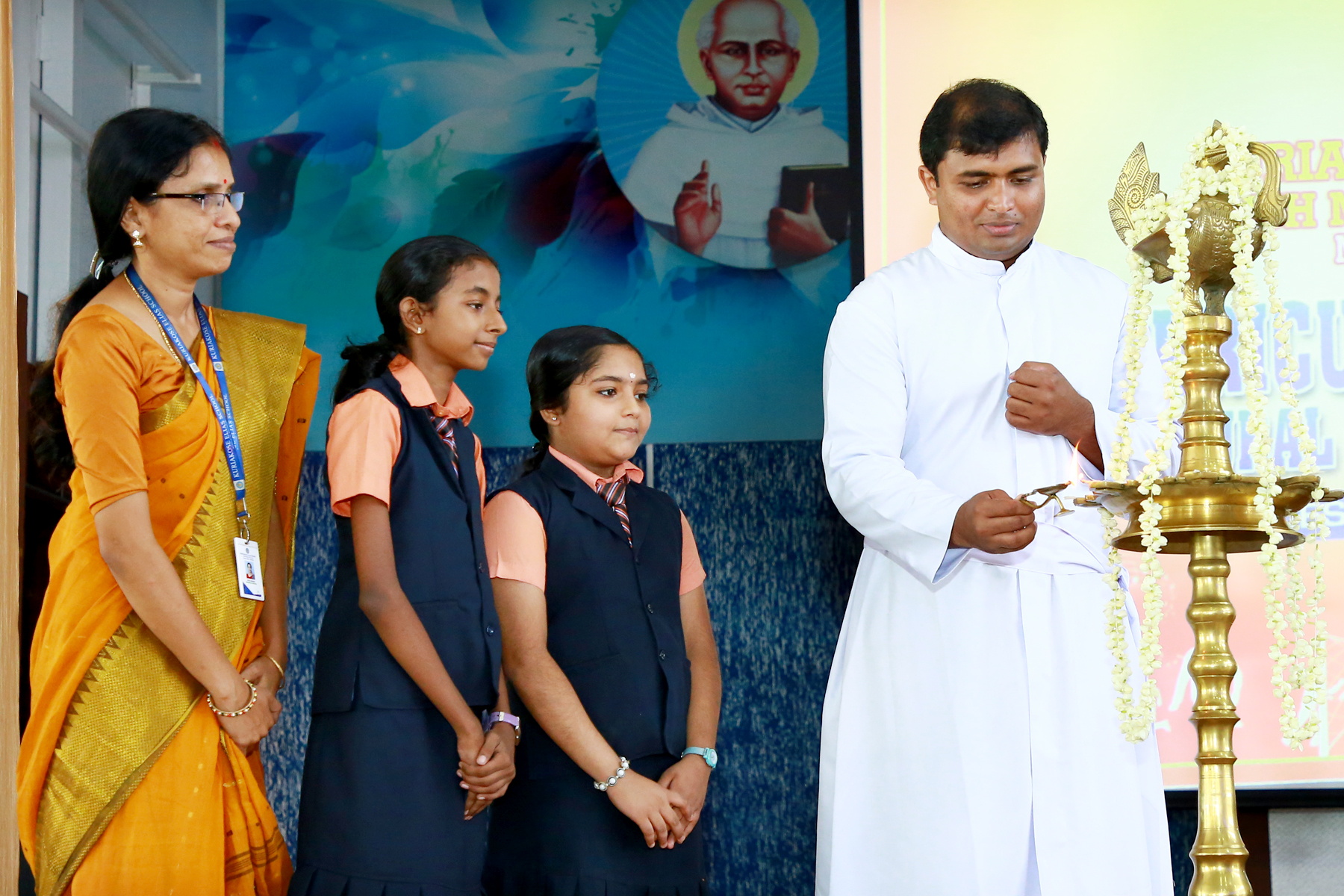 CCA INAUGURATION 2019-20
The Co Curricular activities of the academic year 2019-20 was inaugurated on Tuesday 9th July by Rev. Fr Charles Mundakathil CMI during the school assembly.The training to be scheduled to be conducted on all Tuesdays in the afternoon session from 1.30pm to 3.15 pm, in association with Sargakshetra Cultural Centre, Chethipuzha, Changanacherry.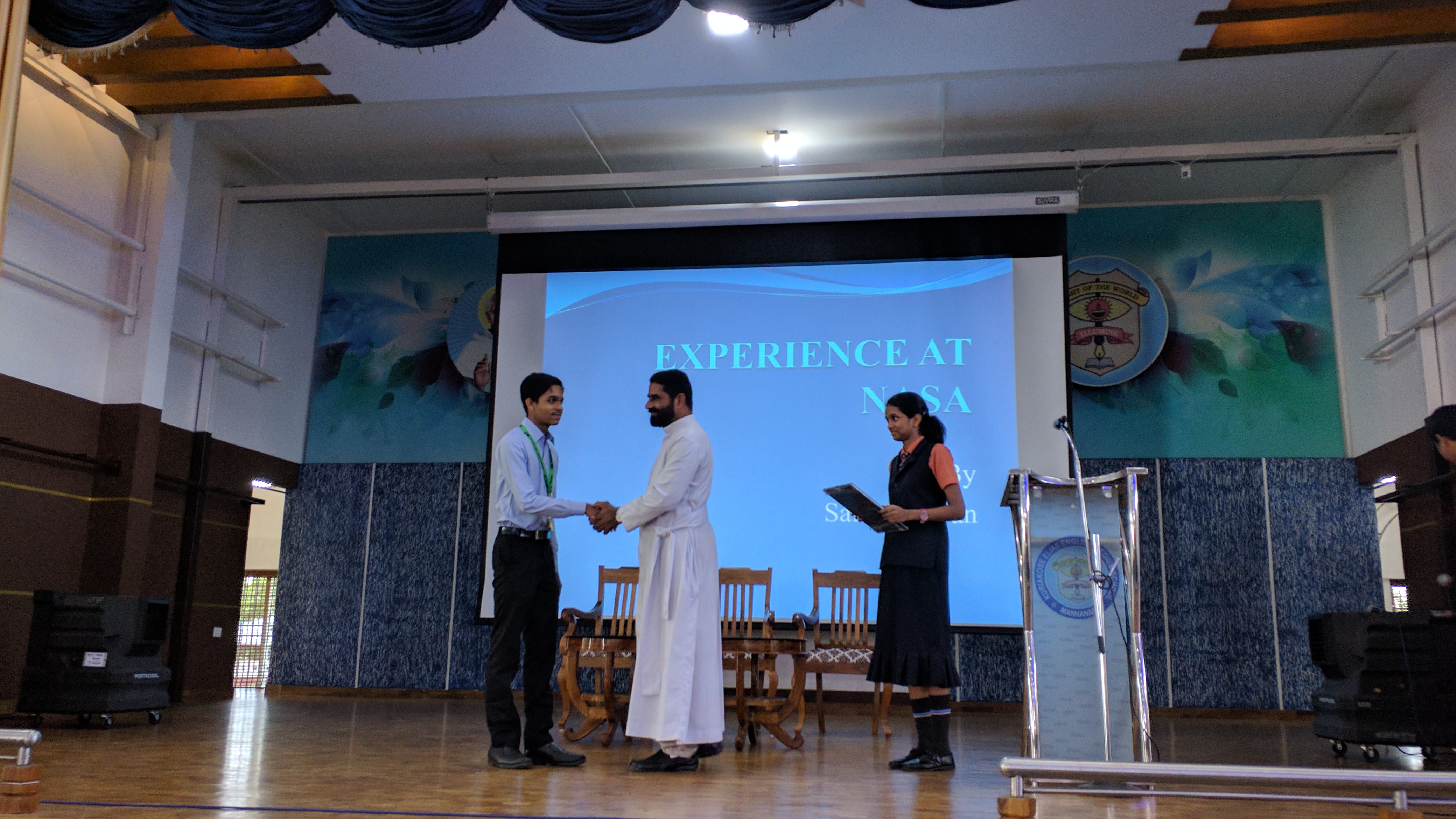 Sai @ NASA
Sai S Kalyan, International Space Olympiad Second Rank Holder and School Topper ISC board exam 2019, visited the campus on Monday, 8th June. He addressed the students during the assembly and the presentation on his trip to NASA, USA proved to be informative to the students. His talk also triggered curiosity in the young minds to explore more on astronomy.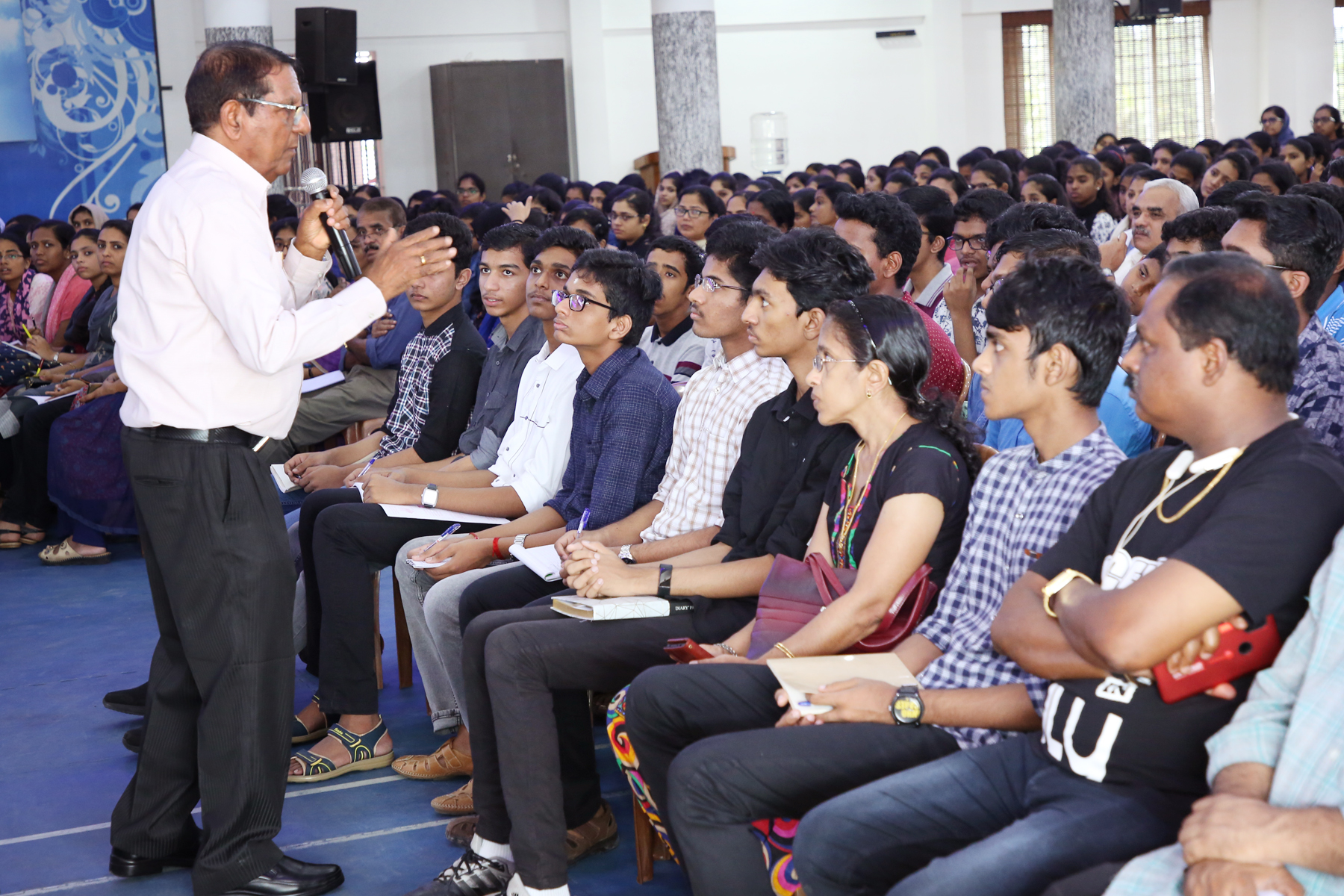 Plan Your Profession
Sri. B S Warrier took a half day session for the students and parents of class X to XII on 7th July, Sunday. He spent his valuable time discussing about various courses and their scope. He also clarified the various queries of parents and the students regarding the same.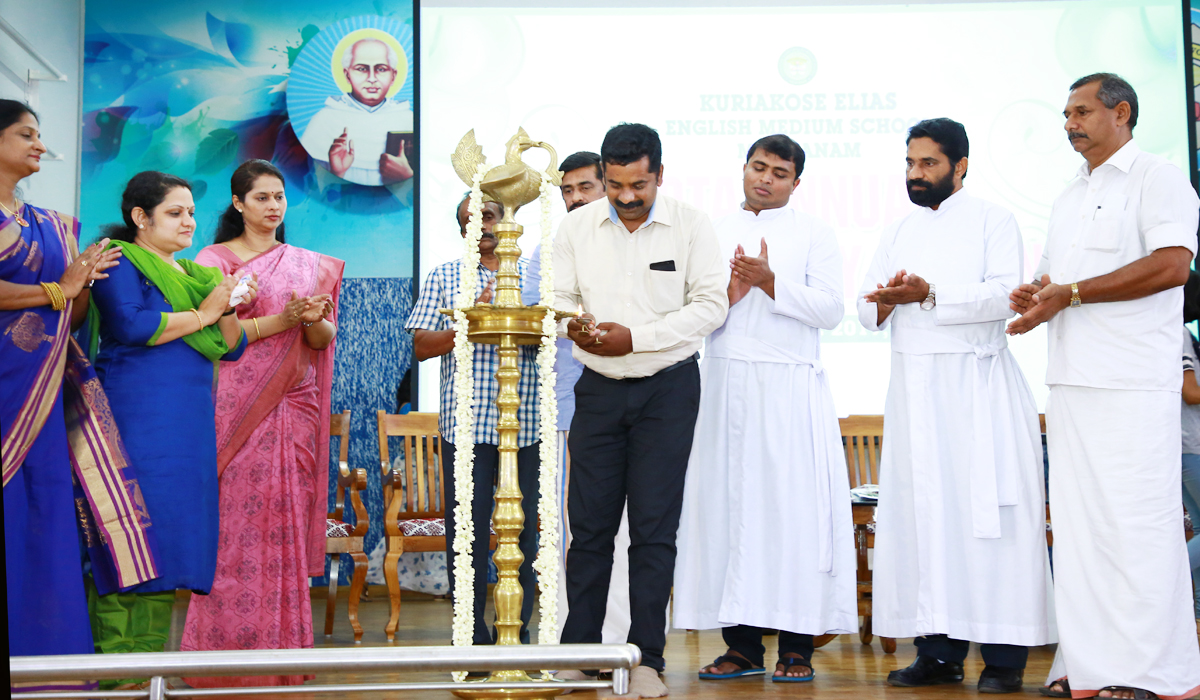 PTA ANNUAL GENERALBODY MEETING
Annual General Body of the PTA was held on Sunday 30th June 2019 at 2.30 PM. Inauguration and orientation talk was given by Sri. Cijo Jacob (HR Trainer).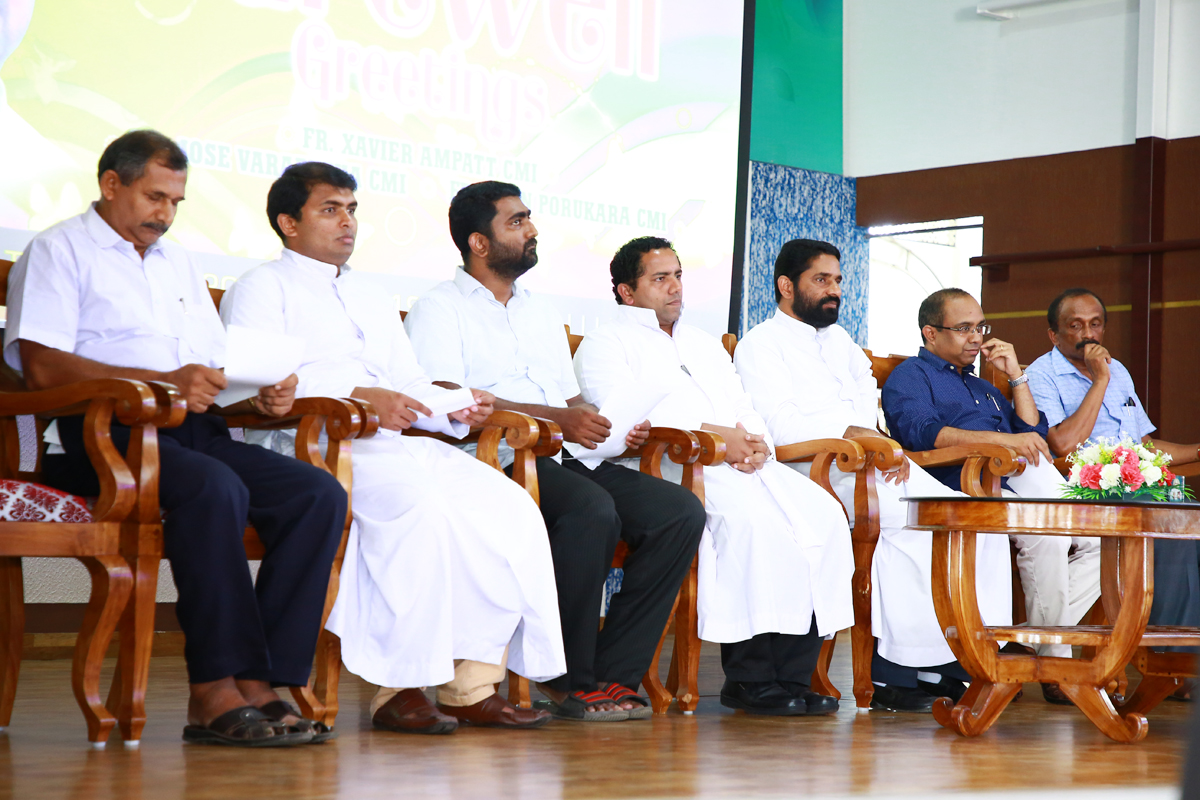 VICE PRINCIPAL'S FAREWELL
KE School organized a small gathering in order to give sent off to our former Vice principal and bursar Rev. Fr. Xavier Ampatt CMI, Assistant Rector Fr. Jose Varapuzha CMI and Fr. Arun Porukkara CMI. Presidential address was given by Rev. Dr. James Mullassery CMI. Felicitations were given by Headmaster Mr. K.D Sebastian , Mr. K.M Thomas (non Teaching Staff Representative), Master Kevin George Reji(Head Boy), Kum. Zahra Wafa (Girls Boarding Representative). Reply speeches delivered by Rev. Fr. Xavier Ampatt CMI, Fr. Jose Varapuzha CMI, Fr. Arun Porukkara CMI.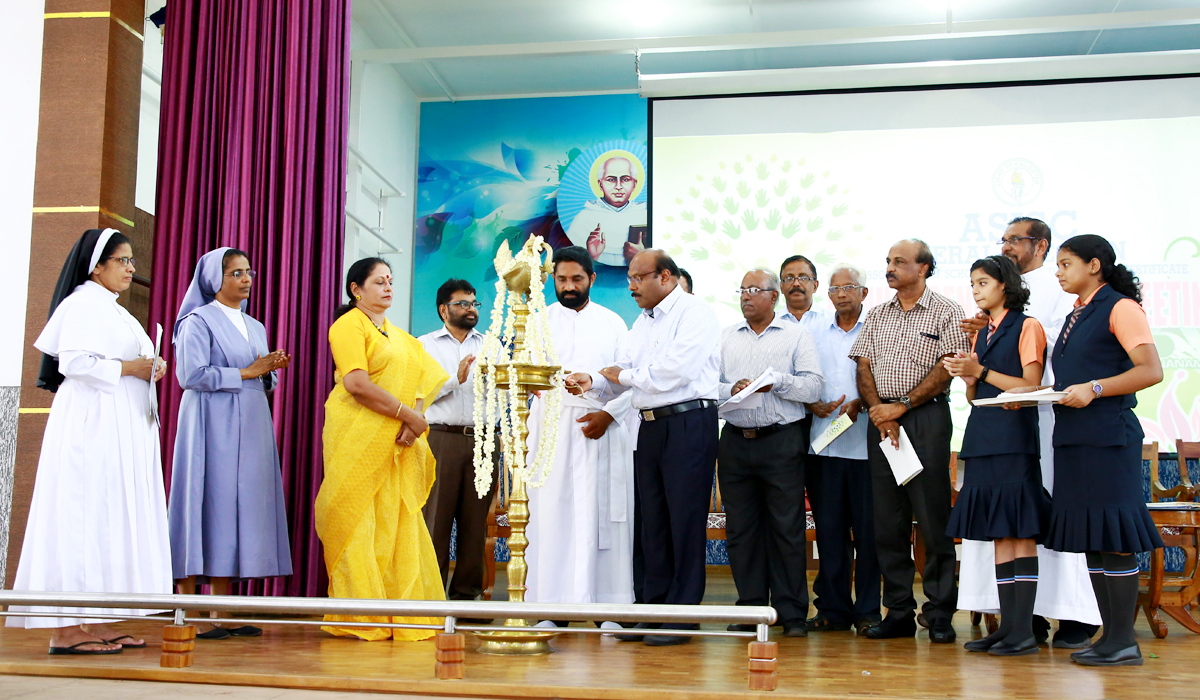 ASISC PRINCIPALS' AGM -2019
All Kerala ASISC Principals' AGM was held at K E School on 18th June 2019. Kerala Region President Rev. Dr. James Mullassery CMI presided over the Meeting in the presence of Secretary Rev. Fr. George Mathew Karoor . Sri K V Vincent , Secretary ASISC Kanpur occupied the chief guest's chair.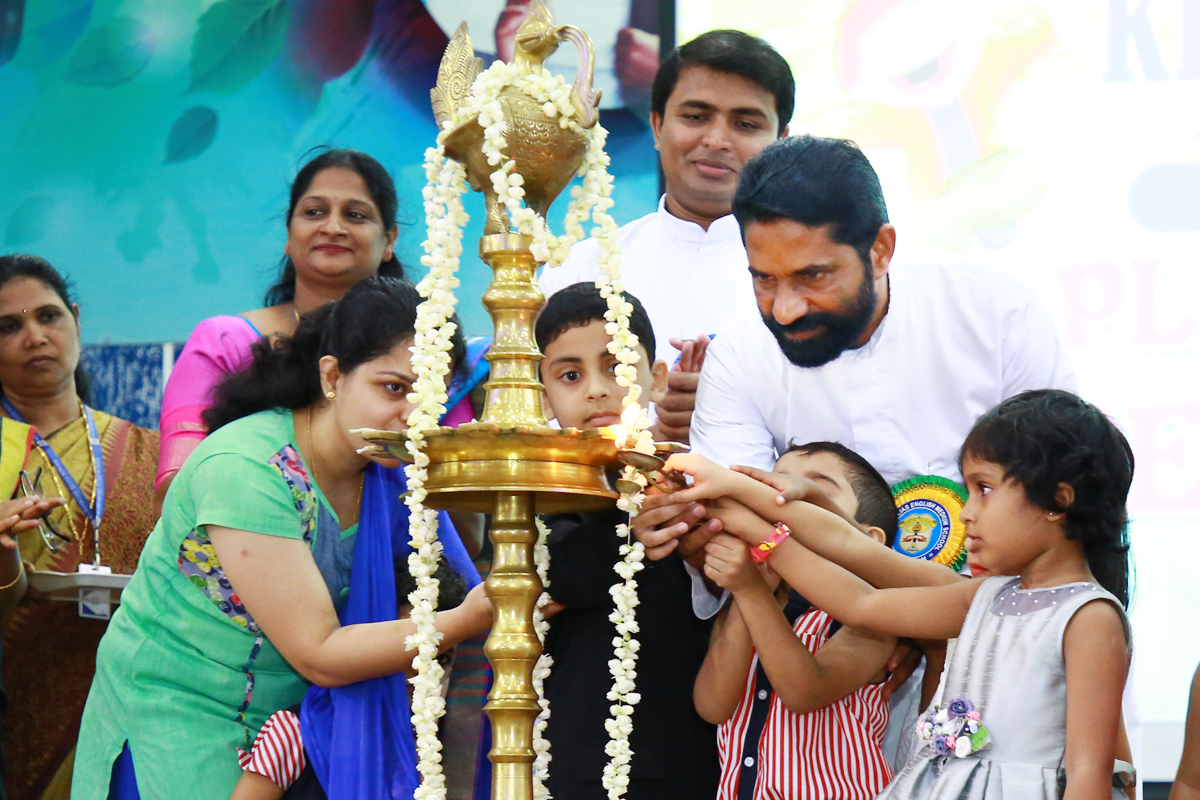 KG OPENING DAY 2019
Play class and KG opening was held on 12.06.2019. It was conducted in the school auditorium. The Re-opening day was blessed by the Principal Rev.Dr. James Mullassery CMI. Our Vice Principal Rev.Fr. Charles Mundakathil CMI, introduced all the new KG teachers. The cultural programmes were conducted by kids. The class teachers along with the class representatives received Njana Jyothi from our Principal and brought it back to the class room.
DAWN 2019
KE School on 8th June 2019, extended a, marvelous welcome to the Plus one students, DAWN an opening of the door to a world of knowledge and excellence leading them to an important crossroads in their academic careers.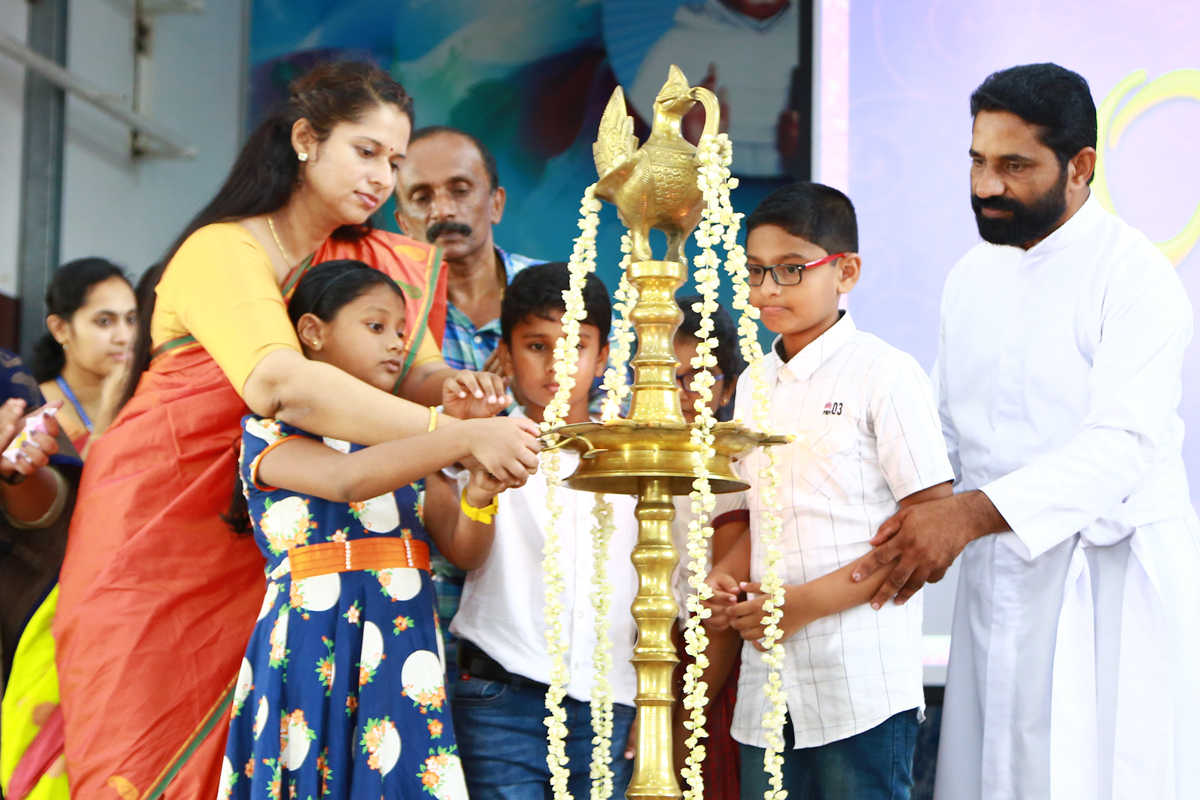 SCHOOL OPENING
'NJANAJYOTHI' a perfection in light of wisdom, for each student who were welcomed to the scholastic academy of KE on 6th June 2019 , where education is not the filling of a pail but the lighting of fire that will illumine each of our learners and mould a perfect citizen.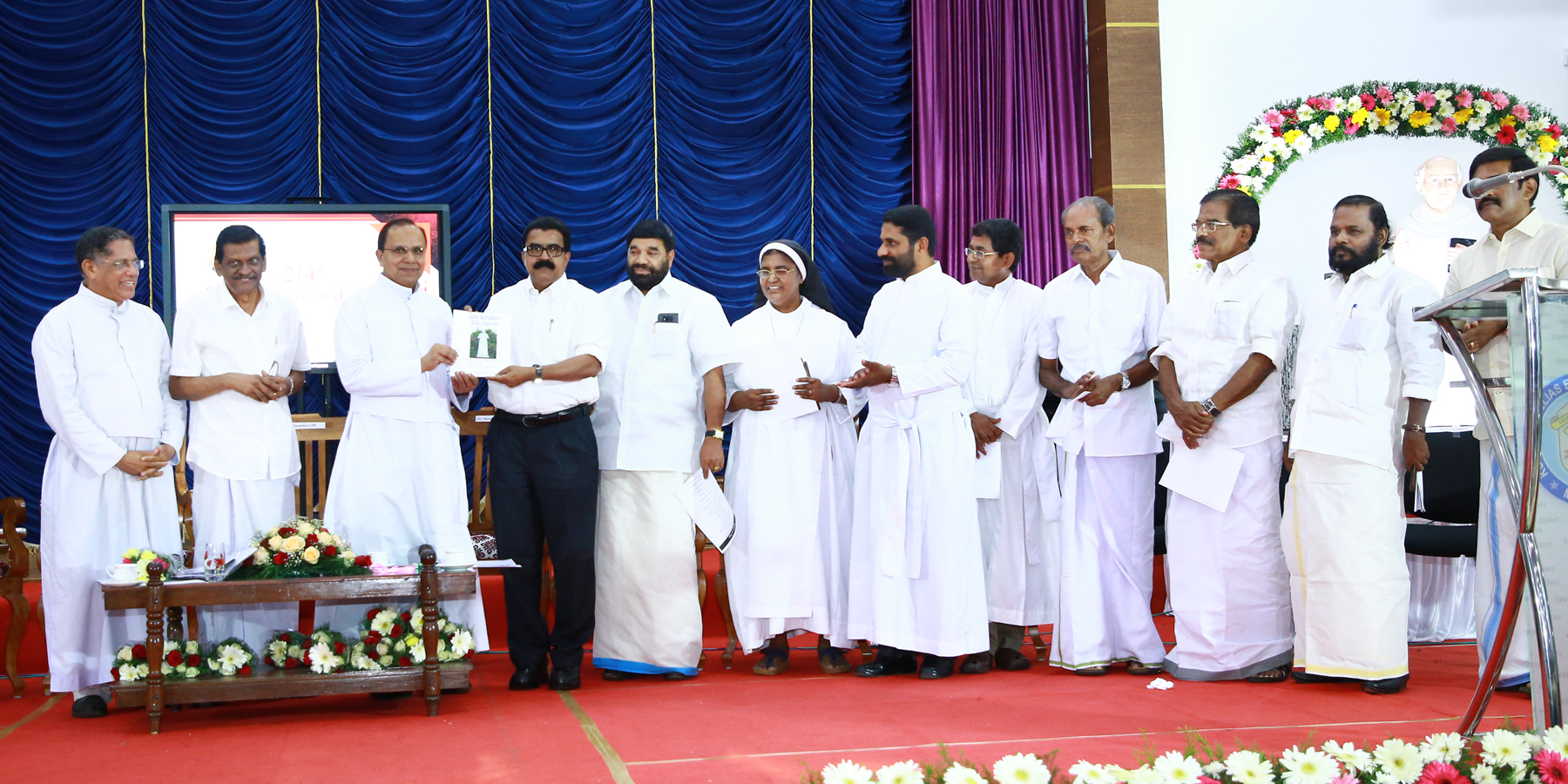 214th CHAVARA JAYANTHI
The 214th Chavara Jayanthi of St. Kuriakose Elias Chavara was held at K E School Auditorium on 10th Feb 2019. The Presidential address was given by Rev. Fr. Sebastian Chamathara CMI (Provincial St. Josephs Province TVM). The Inauguration of the meeting was done by Sri P.J Joseph MLA. The book "A Milestone in the history of Ecologue" by Rev. Fr. Francis Vallapura CMI was released by Dr. Babu Sebastian (Former Vice Chancellor MG University). The switch on ceremony of the movie "Karma Sagaram" by St. Josephs Province Media & Communication Department was done by Rev. Fr. Sebastian Chamathara CMI. The other dignitaries on the stage were Sri. Thiruvanchoor Radhakrishnan MLA, Sr.Prasanna CMC, Rev. Fr. Sebastian Poovathinkal, Rev.Fr. Scaria Ethiret CMI, Sri. V N Vasavan, Sri. Thomas Chazhikadan, Sri P J Varghese, Sri. P U Thomas, Sri Jomy Mathew. Inauguration of the Drama based on St. Chavara's Epic Poem "Anasthasyayude Rakthasakshyam" was done by Sri. Joy Manikath and Staged by Trivandrum Kala & Chavara Kalanilayam.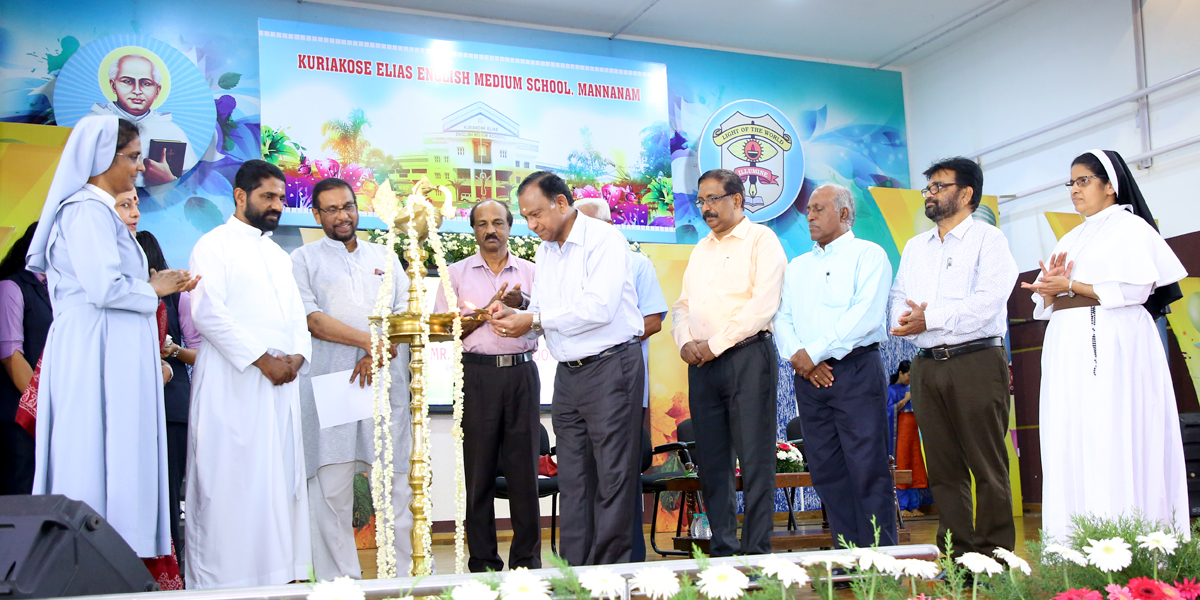 ASISC PRINCIPALS MEET
ASISC Kerala region Principals meet was conducted at KE on 1st August 2018, Where Sri. Gerry Aarathoon , Chief Executive Secretary adorned the chief guest's chair. The various changes expected in future and the existing norms of the council were discussed on the occasion. The new vocational subjects were also introduced during the meeting.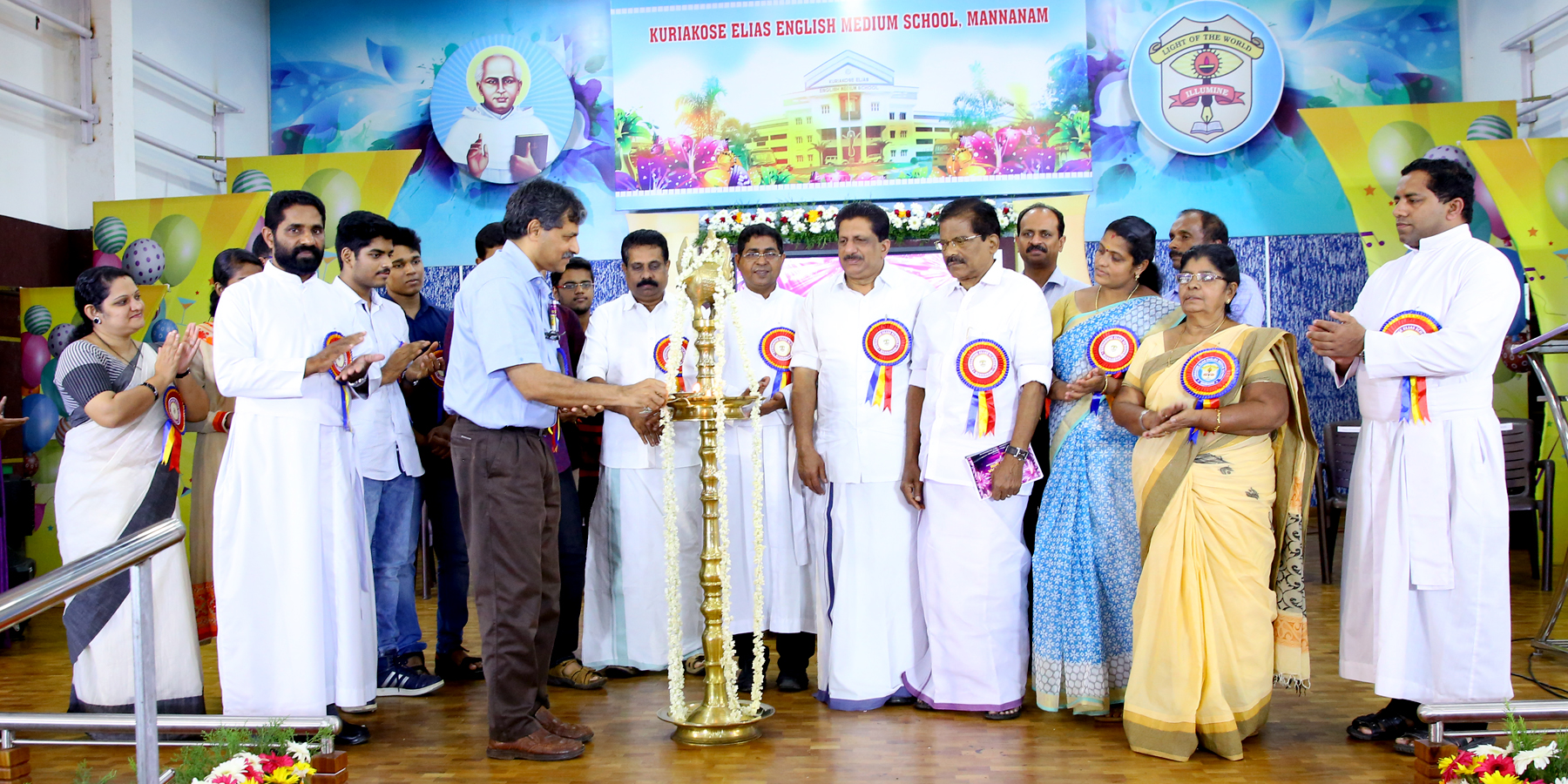 EXCELLENTIA KEEMS 2018
12TH POPE JOHN PAUL II MEMORIAL AWARDS CEREMONY AND COMMEMORATIVE SPEECH
12th Pope John Paul II Memorial Awards Ceremony and Commemorative speech was held at KE School Mannanam on 30th June 2018. Shri. Justice (Retd) P.Sathasivam (Hon'ble Governor of Kerala) inaugurated the event and presented the awards. Our Principal Rev. Fr. James Mullassery CMI received the award for Excellence in School Education.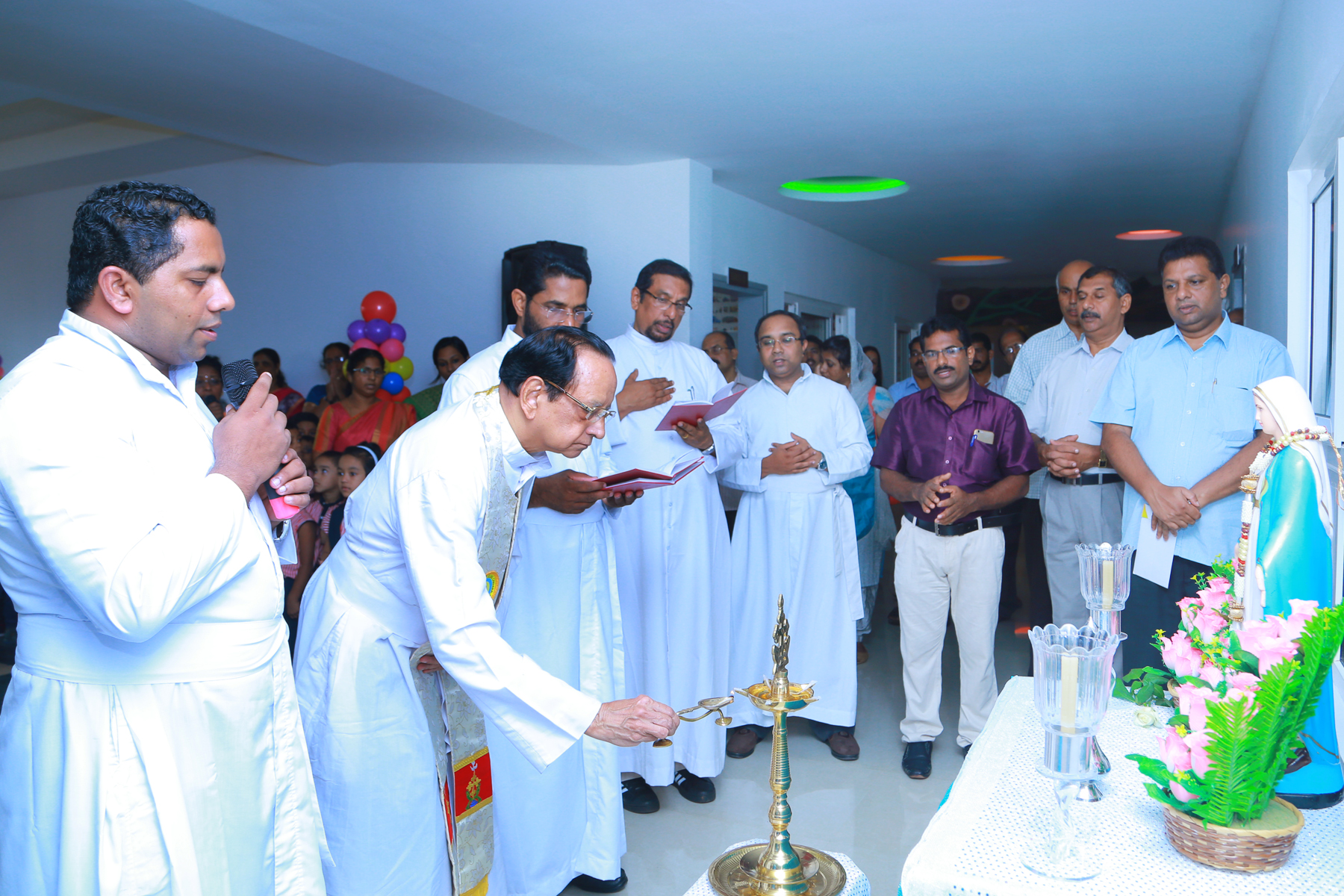 KG BLOCK BLESSING
The KG New Block Section Blessing was done by Rev.Fr. Kuncheria Pathil (Former Provincial of St. Joseph Province TVM) Rev. Fr. Mathew Arekalam CMI (Director of Carmel Engineering College Punnapra),Rev. Fr. George Mathew Karoor (ASISC Kerala region Secretary & Treasurer ) ,Rev. Fr. James Mullassery CMI, Rev Fr. Xavier Ampatt were Present.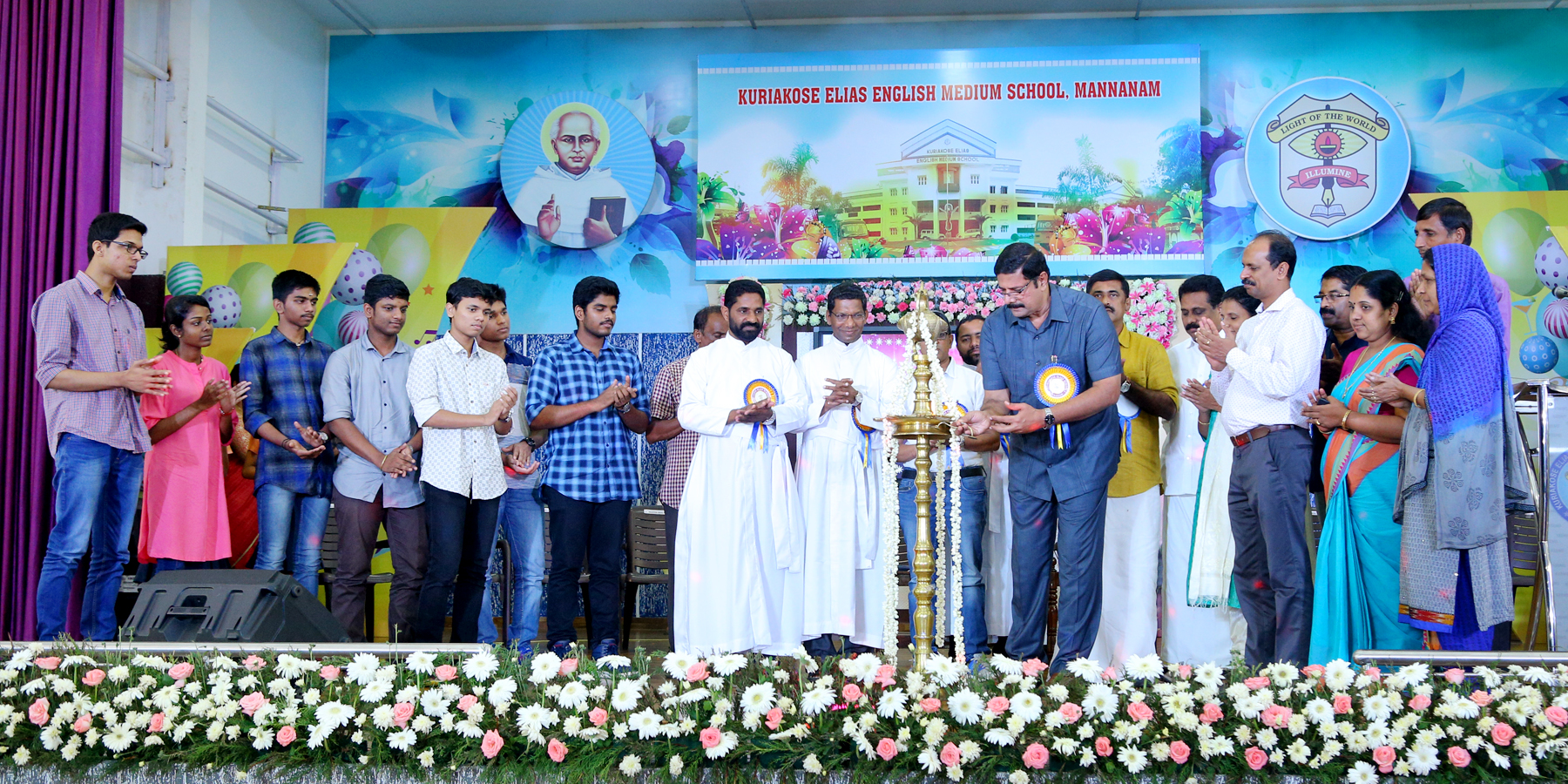 DAWN 2018
Plus one opening ceremony and the merit day was celebrated at KE School on 21st June, Thursday. Dr Ruble Raj, former Principal Marian College , Kuttikkanam was the chief guest of the day. The various board examinations toppers were also honored on the occasion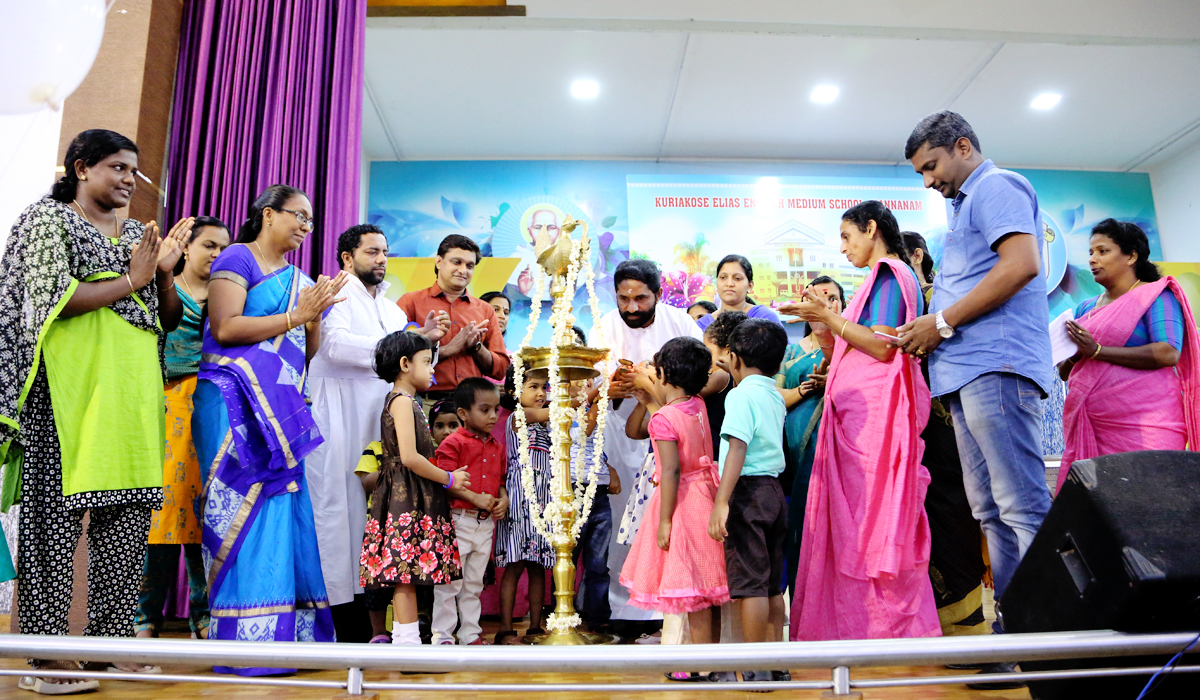 KG-OPENING 2018
Pre-school and kindergarten students stepped into the campus On 11th June, Monday. Along with the re-opening ceremony, "Lighting the Njanajyothy"; lighting the flames of wisdom and knowledge was also held. The KG block was beautifully decorated with flowers and balloons. Dignitaries on the stage were Fr. James Mullassery CMI, Principal, Rev Fr. Xavier Ampatt CMI, Vice Principal, and Mrs. Suman Anil (HM, KG). Colourful entertainment programmes were presented by the kids of KE.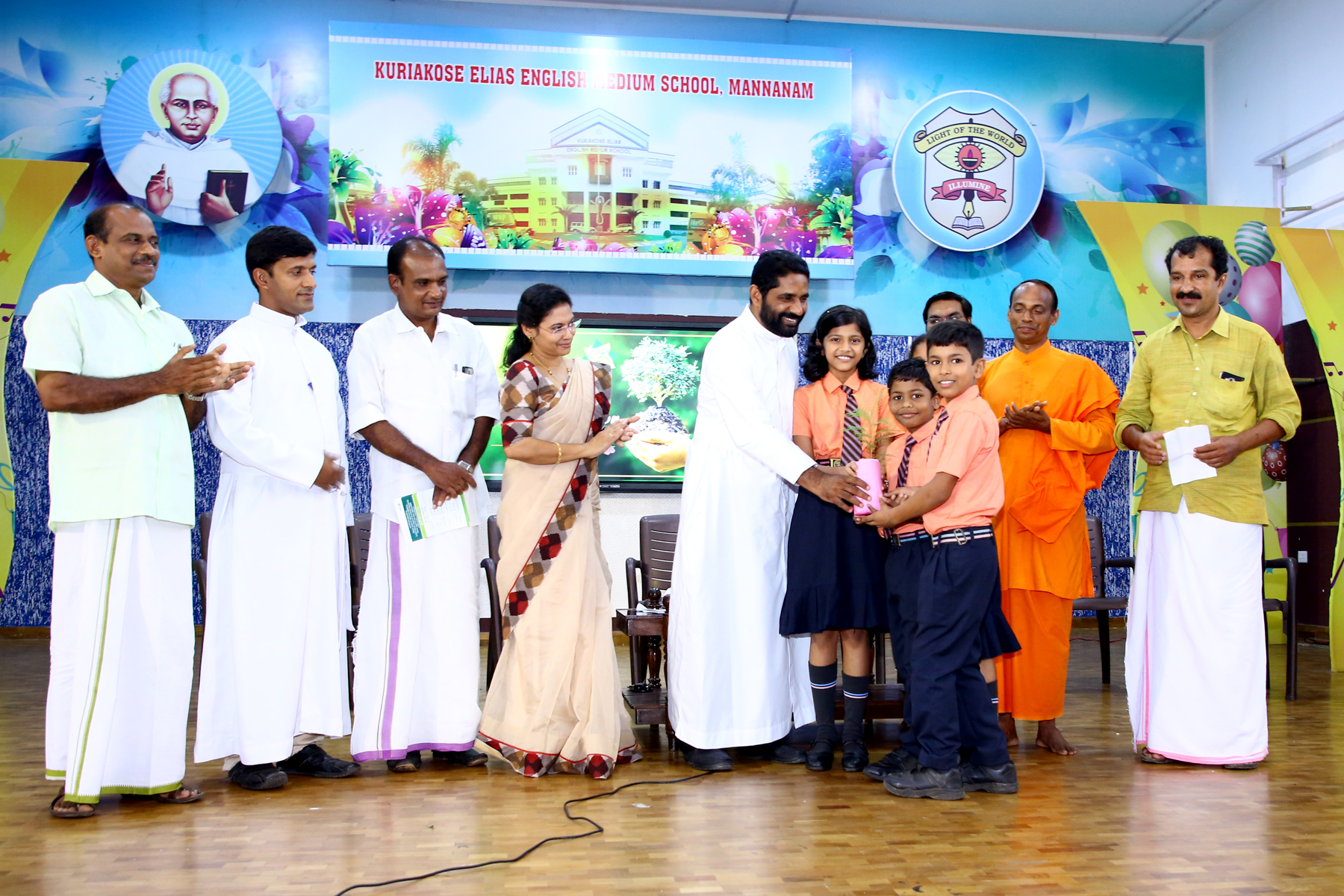 WORLD ENVIRONMENT DAY - 2018
KE School observed the World Environment day on 5th June. A Special assembly was conducted and Prof. Mini Sebastian, (Malayalam Dept, DevaMatha College, Kuravilangad) took one hour class for the students of UP & HS Section. The Class mainly focused on creating an awareness among the students to protect nature for future. After the assembly, the students were distributed saplings to be planted at home. The Environment day celebration at KE was arranged in co-operation with the Upper Kuttanad Vikasana Samithy, Inaugurating 'Haritha Keralam' on the occasion. Swami Jana Mohan Tapaswi (Santhigiri Ashram) graced the occasion with his eminent presence.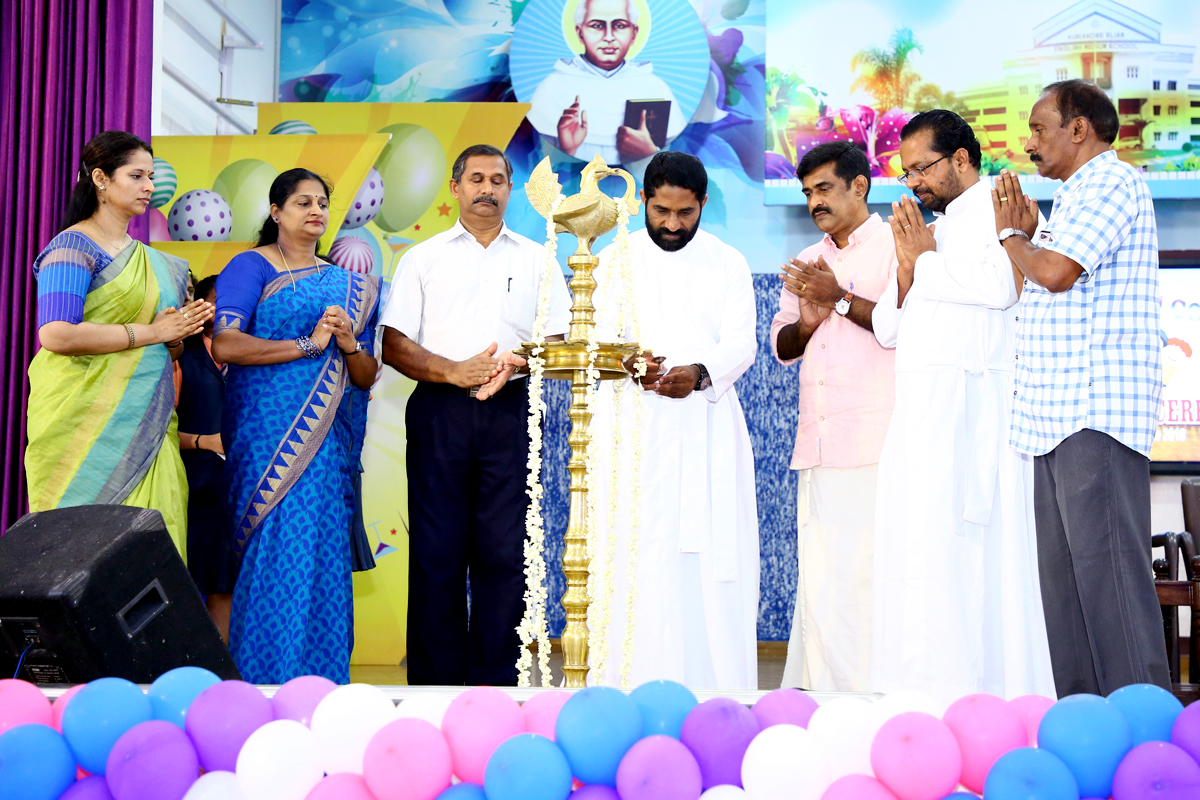 SCHOOL RE-OPENING 2018
School Re-opening day ceremony was held on 4th June 2018 at 10.30 am in the School Auditorium. 'Njanajyothy'- Flames of wisdom & Knowledge was lighted by Rev. Fr James Mullassery CMI Principal in the presence of Rev.Fr. Sibichen Kalarikkal CMI, Chief guest of the day. PTA President Sri. Jomy Mathew also extend his valuable presence. The re-opening day's ceremony was concluded with the Holy Mass at 11.30 am.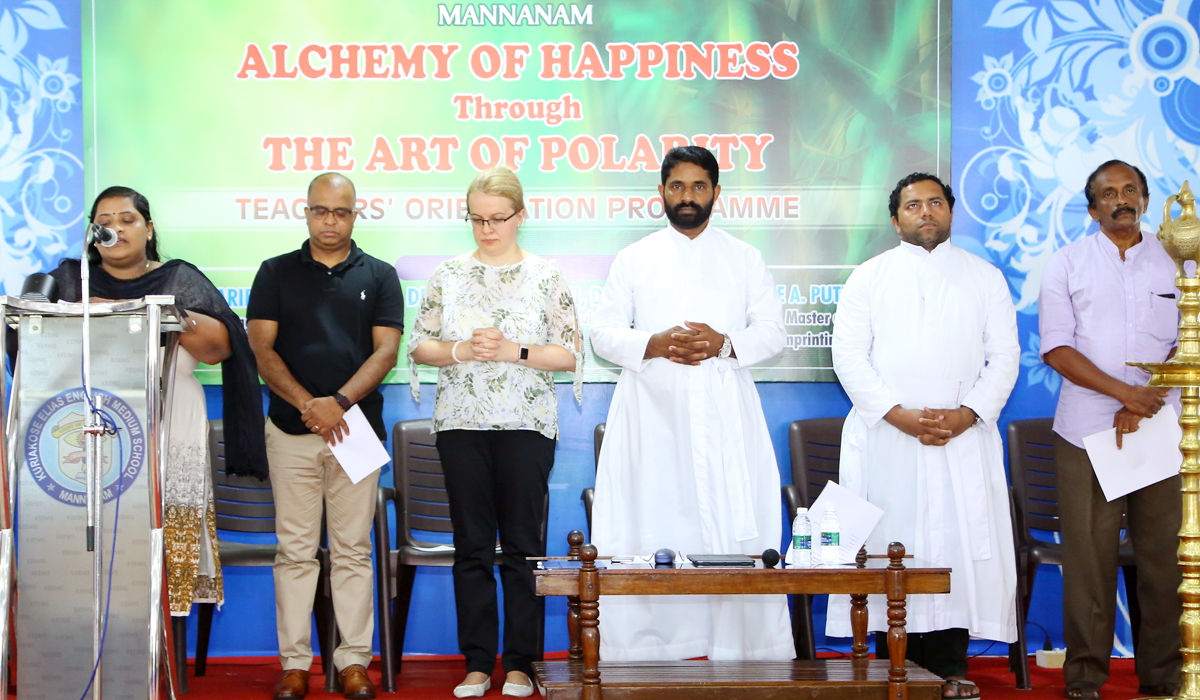 TEACHER'S ORIENTATION PROGRAMME
The Faculty members of KE School attended one day Orientation class on "Alchemy of happiness through the art of polarity". Sessions were handled by Dr. Shibu M Karippai and Dr. Teresa Karippai along with George Puthoor, Chartered Counsellors and Psychologists,UK.